This interview is the next in the Blog World Tour: Science Fiction edition series. Today I'm hosting Christina Feindel, author of The Revenant.
Welcome to my blog, Christina! I'm delighted to have you here today.
My first question goes straight to the heart of the matter–when did you know you wanted to be a writer?
I knew I wanted to write a book someday when I was in the third grade. My teacher spiral-bound one of my writing assignments–the first piece of fiction I ever wrote–and put it in the school's tiny little library. I'd been an avid reader for as long as I could remember, and having my own silly little story tucked on the shelves beside The Little House on the Prairie was kind of a cool feeling for an eight-year-old. I knew that even if writing didn't wind up being my career, it would always be a hobby I'd come back to, however I could.
Wow! What an amazing teacher. It's wonderful that you started writing at such a young age. What's the easiest thing about writing for you?
The things that come easiest to me are the really emotional scenes or conversations, the ones where the characters collide or come together in a really pivotal way. Things just feel a lot easier when you're really in the thick of it. I love it. It's hard to feel that way about laying the exposition or describing a new setting unless you have the anticipation of knowing there's something really great on the other side of it. Sometimes you don't know that until you get there, and getting there can feel like a long, arduous slog.
I find writing easiest when I get caught up in the emotions of a scene as well. When the words just flow out, it's something magical. Have you ever collaborated with other writers on a project?
The Revenant was sort of a collaboration between me and my husband, although he wanted nothing to do with actually writing it. The base story was his idea, but he didn't really get involved with the book until the editing process. I'd love to give a real collaboration a try someday. I'm sure it's simultaneously fun and frustrating to have a partner for the whole process. I have a lot of respect for authors who've pulled off collaborations. I know it can't be easy.
I think it depends on your partner(s). My last finished collaborative work was a novel I co-wrote with my sister when we were in our early teens. Although we had our disagreements, overall it was a fun and rewarding experience. She and I are now working to revise a fantasy trilogy I wrote (for those reading this post, that's the Demons trilogy!). The characters and story ideas came from both of us, but I originally wrote the trilogy myself. Now we're working together on the revision, and I'm super-excited about it.
My next question delves a bit into the marketing side of writing. Do you think giving books away for free works as a marketing tool? What is your reasoning for or against it?
Yes! Word of mouth has always been the best way to get people interested in something, and that includes online reviews like Amazon or Yelp. You want people to talk about and review your book, and giving it to them in a contest is an awesome way to make that happen. Not to mention the potential to build relationships in the industry by sending review copies to other authors. Half of my favorite bloggers are people I found out about because I received their book, and some of them have become good friends.
Word of mouth definitely helps in marketing! Thank you for sharing your thoughts. There's time for one more question, so I'm going back to the lighthearted side of things and asking you this: What is your favorite quote about writing?
There are too many good ones to pick an absolute favorite. But a recent favorite comes from playwright @JonnySun on Twitter: "write even if u dont have something to write about bc: a) something WILL come, and b) once it does u'll have practiced how to write about it". It's the perfect approach to writer's block. I love thinking about "uninspired" writing as practice for the writing that does matter. People tend to think of writing as something you're either good at or aren't. But most people don't just sit down and paint the Mona Lisa or play a perfect Ode to Joy on the piano. You have to practice your technique to be able to do those things, and the same is true of a good piece of writing.
I need inspiration to write, but I definitely have fun using word prompts and image prompts to practice writing scenes, snippets, different styles, etc. I think everyone has their own way of practicing–the most important part is sitting down and writing.
Thank you so much for being here today, Christina!
Christina Feindel resides in central Texas with her multi-talented husband, Noah. While traversing academia, civil service, and chronic illness in early adulthood, she founded the whole-foods blog ACleanPlate and now works as a cook, photographer, and educator. She pens fiction in her spare time, with a particular passion for character development and genre-blending. More info about her and her debut novel The Revenant can be found on her website. She is also on Twitter.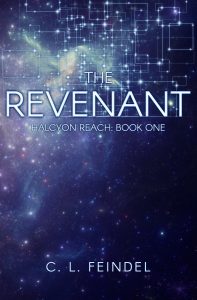 With its advanced weaponry, the ghost ship Revenant was supposed to turn the tide of the war… but went missing instead. Ten years later, the Federation's hold on the three suns is firmly cemented and corrupt in every way, and any Separatist hopes or dreams seem to have gone the way of Old Earth and its dinosaurs.
Grayson Delamere was still a child when the war ended and she doesn't much care why it was fought in the first place. In the cold, dark vac of space, most lives are short and brutal with or without the Federation's interference. She's worked hard and kept her head down, making her living as a mechanic on any ship that'd have her. If she's broken a few laws and made a few enemies along the way, well, that's just the way life is on the fringe of the Trisolar System.
But now, someone has discovered all of her dirty little secrets… and will hold them hostage to ensure Grayson's help in the most dangerous job of her life: To recover the Revenant and rekindle the fires of rebellion.