I have an exciting announcement today!
Three groups of authors have banded together to assemble three awesome fantasy anthologies, and now we're bringing them to you with a chance for you to win paperback copies as well as a $30 Amazon Shopping Spree!
This promotion is running from December 14th, 2016, to December 28th, 2016.
Read on to find out more about this anthology and enter the giveaway!
The Anthologies:

From the Stories of Old: A Collection of Fairy Tale Retellings
In this international collection, new life is given to fairy tales, both classic and obscure.
Mythical creatures put the fairy in Fairy Tale. Mermaids, selkies, and ocean guardians experience the best and worst of humanity; sisters encounter an unusually friendly bear; a brave bride meets a silly goose; and a spinner of gold sets the record straight.
Urban fantasies modernize classics: a Frenchman learns the truth about magic, his past, and his girlfriend; a girl sets out to find love but receives a curse; and today's naughty list makes Old Saint Nick not-so-jolly.
New worlds bring a fresh sense of wonder! In the future, a young woman fights for her people and herself; a bastard son finds acceptance in a world ruled by women; and a farmer's wits win the heart of a frosty king.
Discover unexpected twists on old favorites, and fall in love with new tales and worlds to explore!
Heather's note: This anthology features my own short story "Beneath His Skin", as well as twelve other fairy tale retellings. These magical tales take place all over the world as well as in other worlds, both past and future. Each story is accompanied by an black-and-white ink illustration created by my talented sister, Heidi Hayden.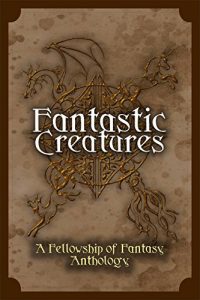 Fantastic Creatures
Here be dragons … and selkies and griffins and maybe even a mermaid or two.
Twenty fantasy authors band together to bring you a collection of thrilling tales and magical monsters. Do you like to slay dragons? Or befriend them? Do you prefer to meet cephalopods as gigantic kraken or adorable tree octopuses?
Each story focuses around a fantastic creature from folklore or mythology, and they range from light and playful tales for the whole family to darker stories that may make you wish to leave the lights on. These stories carry the Fellowship of Fantasy seal of approval. While our monsters may be horrifying, you won't stumble into graphic sex and constant swearing.
Perfect for the fantasy lover who can't get enough of mythical beasts.
Heather's note: As the blurb states, this anthology is perfect for the fantasy lover who can't get enough of mythical beasts–I'm partial to the adorable tree octopuses, myself!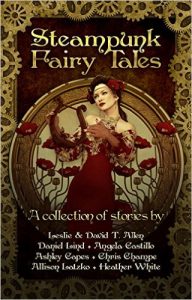 Steampunk Fairy Tales
A toyshop owner builds a set of magic clockwork dolls that delight a factory town. A three-inch tall samurai faces a giant iron ogre with only a sewing needle and a coin. A scientist seeks an antidote to his formula gone wrong, with the help of his partner's beautiful daughter.
All of these stories and more are included in Steampunk Fairy Tales. Written by authors from three different continents, every enchanting tale combines the futuristic Victorian concept of steam and fashion with memorable stories, from the recognizable "Jack and the Beanstalk", to other popular and unfamiliar works from Germany, France, Italy and Japan.
With steam driven gadgets such as mechanical goggles, hoverboards, and an orchestra of automatons. Steampunk Fairy Tales is a charming and unique collection of works for current lovers of the genre, and those just diving in.
Purchase Volume Two for 99 cents!
Heather's note: If you love fairy tales and steampunk, definitely check these anthologies out. The first volume features seven fantastical stories, and the second volume contains another ten filled to the brim with steampunky fairy tale goodness.
Last, but not least, here's the link to the giveaway!