Today's Magic Monday review features a book that I normally wouldn't have considered reading, much less reviewing as favorably as I am about to. The main reason for this is that, though fantasy, the book features a vicar as the main character, and religion plays a strong role in the story and plot. As I am not fond of books that are "preachy", I tend to steer away from books that clearly have a strong religious thread. However, the blurb for this book was too enticing to ignore, so I picked it up and started reading. And couldn't stop.
Yep, this is another one of those started-reading-and-only-went-to-sleep-because-I-had-to books. And I would have stayed up reading it if I hadn't been sick and in need of some serious rest. Instead I finished it on my day off, and then proceeded to write a 4-star review on Goodreads. And Amazon for good measure.
Here's the cover and the blurb: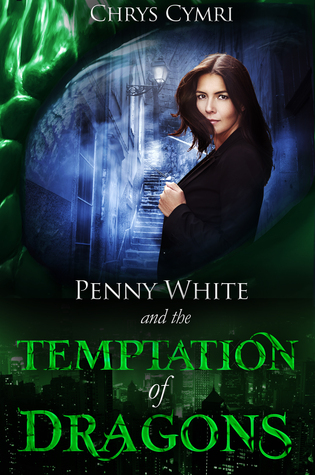 Bishop Nigel smiled at me. 'Holy water doesn't harm vampires. Which is just as well, as it would make it impossible to baptise them.'
When I was asked by a dragon to give him the last rites, I never dreamed it would lead to negotiating with his cannibalistic family or running from snail sharks. Life as the priest of a small English village is quite tame in comparision. At least I have Morey, a gryphon with sarcasm management issues, to help me. And if all else fails, there's always red wine and single malt whisky.
As if my life weren't complicated enough, a darkly beautiful dragon named Raven keeps appearing where I least expect him, I've met a handsome police inspector who loves science fiction as much as I do, and my younger brother is getting into trouble for trying to pick up vampires.
That's what happens when you're dealing with an incredible and dangerous parallel world full of mythical creatures. And I have to learn to navigate it all without losing myself, or my brother…
The hook for me was definitely Morey. I love a good fantasy, and I love it even more when at least one of the main characters has a sarcastic side. Even better, I soon realized that Penny is a major geek–she makes constant Doctor Who references throughout the book.
When I said I devoured this book, I meant it. I love Penny and Morey and I look forward to reading more about their adventures in future books–the sequel is already out and on my (very long) reading list.
Now, about this book specifically… It starts out with Penny headed home, a little more tipsy than she meant to be. On the way, she stumbles upon a dying dragon and, at his request, reads him his rites. In the morning, she thinks it's all a dream…until she finds out it wasn't.
Cue the entrance of Morey, a little gryphon with a big attitude. One of my favorite parts of this book is the development of their friendship. Actually, I like how the relationships in the story are developed in general–although this story is fantasy and does have an intriguing mystery plot, it's feels more character-driven (with a nice dash of action on the side).
The only thing I might have liked was a little more world-building for the magical world; there are definitely hints of it in the book, and some places are shown in more detail, but I'm hoping the sequel will have more.
I'd definitely recommend this book to anyone who loves fantasy, dragons, gryphons, sarcastic characters, and a light touch of romance–the latter is there but played down enough that it didn't bother me at all (for those of you who follow my Magic Monday series, you know I'm not a huge fan of romance!)
You can learn more about Chrys Cymri through her website, and The Temptation of Dragons is available on Amazon in Kindle and paperback.