It's been a few months since my last month map, for a variety of reasons. However, this month I'm bringing it back, with a new and shiny month map!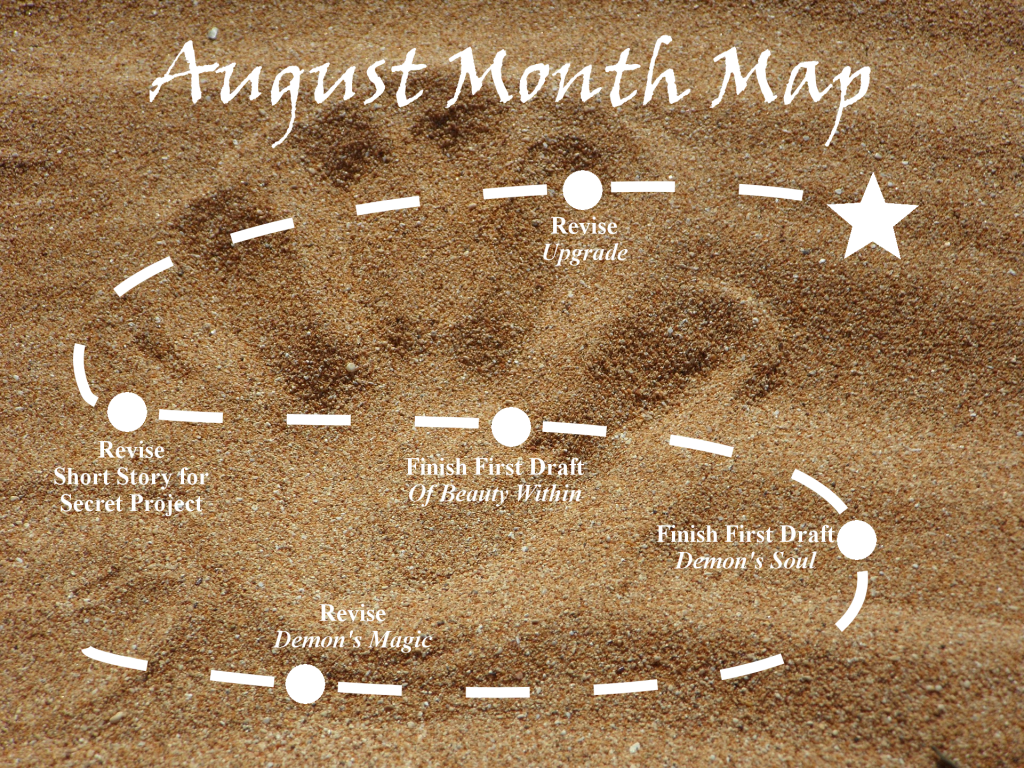 It doesn't look very colorful yet, but future updates will show my progress on a weekly basis. Tomorrow I'll post an updated version with my progress for this past week. My hope is to reach the end of the month with a rainbow of colors!
For those of you intrigued, here are a few more details for each of my five goals:
Demon's Magic: The second in a trilogy I'm currently revising. It's complete, but needs work before I post it on Scribophile (my dearly beloved writing community) for critique.
Demon's Soul: The third in a trilogy I'm currently revising, and the sequel (unsurprisingly) to Demon's Magic. Its current draft is incomplete, but I'm hoping to finish it by the end of the month.
Of Beauty Within: Some of you may remember this briefly mentioned in previous posts. It's a project I began in April, intending to complete it for Camp NaNo that month, but didn't make much progress on at the time. During Camp NaNo in July, last month, I dusted it off and started working on it again. I'd like to finish the first draft of this story as well, and am enjoying the process–new characters keep popping up, and unexpected things keep happening. I love writing first drafts because I never know what to expect!
Short Story: This is related to the secret project that I mentioned and have not yet explained further. I can say that I have finished the first draft, and am currently waiting on critiques before I revise it. However, the feedback so far has been mostly positive, though, of course the draft is still rough and needs some polishing.
Upgrade: Ah, yes, and at last we come to this little thorn in my side–er, I mean, the wonderful sequel to Augment. After some serious rewriting, I think the current draft (#6) is looking a lot better than the original. It does need further revision, now that the rehaul is done, but I'm still waiting on critiques before I can revise–though I have several novel trades in progress. It's slow-going, but once I have those critiques I'll be pushing through another revision. Hoping that draft #8 or #9 will be the final one, once I've cleaned up the rough patches and caught all of the little errors that like to sneak in.
I've also contacted my cover artist, the wonderful Louis Rakovich of Indigo Forest Designs, because it's time to start thinking about a cover for Upgrade! Why is that? Well, if all goes well and I get through several revisions in the next couple of months, Upgrade might be hitting the virtual shelves in late October!* (*Please note that this isn't a confirmation of a release date yet; many factors are still in play and I only control a few of them.)
Is this a lot to take on in one month? Yes. Will I make all my goals? I don't know. Will I try my hardest to do so? YES.
And on that enthusiastic note, I'm heading off to write some more.