Here's another Month Map update–this one's actually on time, hurray! 🙂
Possibly even a little ahead of time, given that I still have half the day left and it's only the 21st. But since I've been making good progress, what the hey! Let's take a look at my map: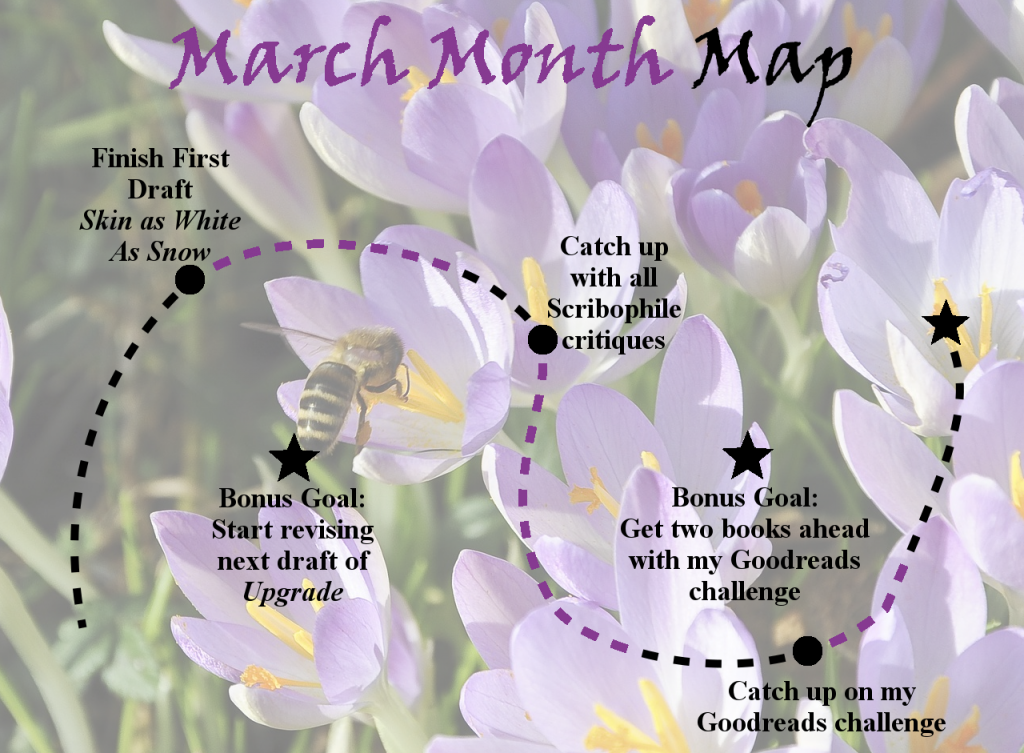 Skin As White as Snow: Although I had hoped to make some progress on this story this past week, I spent much more time than planned critting–thankfully, though, the end is in sight for that goal, and I'll hopefully get some writing done in this final week of the month.
Critting: So far this month I've completed 68 critiques on Scribophile and 27 critiques for an offline trade. I have another 15 to go to catch up with everything that was posted at the end of last month, which was my original goal. However, people have been prolific in posting new chapters this month and I picked up another novel, which means I actually have about 62 critiques to complete before I'll be completely caught up with everything. Not a problem, though! I'll do what I can in the last week of the month, and continue my efforts in April. If I can manage those 15 I mentioned before by the 31st, I'll consider this goal well-accomplished.
Reading: I've been reading in batches–several books here, a few books there. Most have been short reads this month, but they've all be enjoyable! You can check out my Goodreads Challenge here. I've read 8 books so far this month, and my favorite remains Where Carpets Fly.
Other accomplishments: Despite being super-focused on critting, I also edited In A Breath, a short story I'm working on for the next Just-Us League anthology.
Overall, things are still moving along nicely, and I'm excited for the last week of March! Can't believe how fast time has flown.
How are your March goals progressing?