I can't believe how fast time is going by. The month's already half over… Almost three quarters, in fact! Time for a mid-month update of November's Month Map!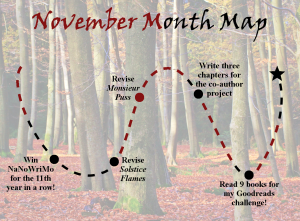 NaNoWriMo!
My project this year is Within the Ironwood, which is technically already started, but I only have a few chapters written so far and this will be the perfect way to get the rest of the first draft down on paper. I'm sharing excerpts on my Facebook page as the month progresses.
Earlier, I tried to design a mock cover but failed miserably. Thankfully, I was rescued by Agape Author Services, who designed me a lovely mock cover!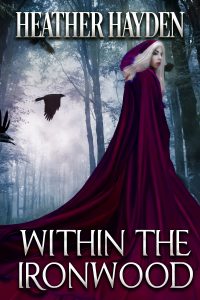 Branwen has spent most of her life in her castle tower, building beautiful, intricate constructs. Her favorites are the birds, who can fly freely in the sunlight, unlike their pale-skinned creator. When her new stepmother orders the destruction of her birds on the eve of her father's death, Branwen realizes she is no longer safe in the castle. She flees into the Ironwood, a dangerous forest within which many wondrous and terrible things lurk. In the home of a family of dwarfs, Branwen finds welcome refuge, but as her stepmother's preparations for war begin, the princess must choose between her own safety and protecting her kingdom.
If you also participate in NaNoWriMo, you can find me under the username shark13.
Solstice Flames (JLA #4)
The judging results are in and apparently I made a few of them cry. That's a good thing, I think? At any rate, it's now time to grab my red pen for the final revisions before the upcoming release in February!
Monsieur Puss (JLA #5)
When I say this got revised this month, I mean it got revised. Heavily. I cut over a thousand words (including a beloved epilogue scene which I'll likely share with my newsletter at some point!), added in more stuff, and did some preliminary polishing. It still needs more work, but the deadline got pushed back to November, so I think I'm doing well on this front.
Cooperative Writing Project
I'm working with Kristy Perkins on an amazing fantasy project involving magic and dragons! I've already completed two of the three chapters I had left to write, and once Kristy finishes her last chapter, it'll be up to me to write the final one! Then we have a brief epilogue to compile. After that, we'll have a beautiful first draft! And by beautiful, I mean in desperate need of editing…
Goodreads Challenge
Surprisingly, I'm doing quite well this month! I've already read six books for my challenge, which means I only need to read three more. My favorite so far has been The Red Dragon Girl by Lea Doué; I also enjoyed the nostalgia of revisiting the first Ranger's Apprentice book, The Ruins of Gorlan, with one of my book clubs.
All in all, November is going well for me! How are your November goals progressing?