The third Monday of the month is usually reserved for a month map update. However, it's December, 2017 is nearly over, and I'm suffering a slight amount of burnout from a stressful November.
So today's post is going to be a brief reflection on how 2017 has gone for me. Last year, I posted a list of goals for 2017. It was an ambitious list, and as things turned out, I didn't follow it to the letter. Or, really, at all.
My writing plan for 2017: Write daily. Release Upgrade. Release two books of a trilogy I've been working on for several years. Release a fairy tale retelling.
What really happened: None of those things.
However… A lot of other things have happened.
I released two more anthologies with my writers' group, the Just-Us League.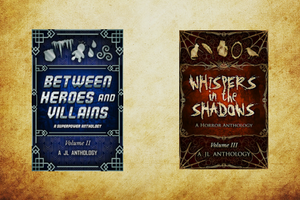 And we have more in the works or planned for 2018 and beyond. These anthologies are illustrated by my sister, Heidi Hayden, and are available on Amazon (free to read through Kindle Unlimited).
I co-wrote the first draft of a fun fantasy novella with Kristy Perkins.
Its work-in-progress title is The Sisters and the Dragon, which is as much as of a hint of the story as I can give you at this time. We're revising it now and hope to release it in 2018.
I started planning (and writing) a series of fairy tale retellings.
My NaNovel this year was Within the Ironwood, which I hope to finish, edit, and release in the coming year. There will be a number of other books in the series, some with recurring characters and others with brand-new ones. All will be set in the same world, a world where magic is on the decline and technology is on the rise. I'll be sharing more about this in the coming months.
I attended my first writing conference.
The CCWC Conference was an amazing experience. I met so many wonderful writers and learned a lot in the classes I took.
I became more active on social media.
I'm something of an odd introvert-extrovert mix. I need my daily interaction with people, but the level I require ranges from "a lot" to "very little". This means social media isn't always something I have the energy for on a daily basis, though I am working on becoming more active on a few platforms.
Blog: I've started following a schedule and have been posting regular Month Maps and updates thereof. I've also been reviewing a fantasy book each month that I've enjoyed.
Twitter: I play a variety of hashtag games depending on my mood and what's available. I also now co-host #WIPTruthOrDare and #JLbooklove.
Facebook: I'm slowly becoming more active on my FB page. In November, I shared a number of excerpts of my NaNovel. I plan to share more excerpts, perhaps even daily ones, in 2018.
While I didn't complete any of the goals I originally set forth for myself, I made progress on a few and I completed several others–some of which I wasn't even aware of when the year first began! All in all, I think 2017 has been a good year for learning my limits and figuring out how to set reachable goals. Am I still learning? Yes, every day. And I still love every minute of it.
How did 2017 go for you?