Happy New Year!
I hope you're having a great start to your new year! Today, I'm celebrating the start of 2018 with a shiny new month map for January and a quick list of my resolutions for this year.
What about December's Month Map? Well, December was a hectic month full of happiness and holidays. I did make progress on my goals, including completing my Goodreads challenge. However, rather than sigh at the goals I'd set and did not complete, I'm looking forward to this month's goals.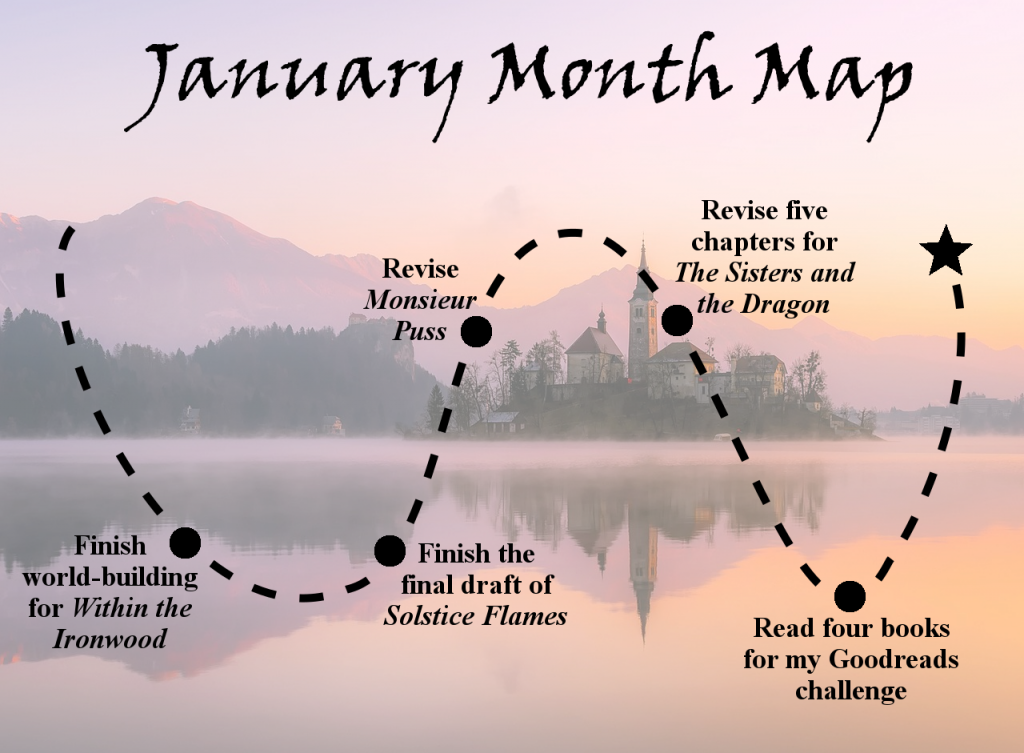 World-building
Before I continue working on Within the Ironwood, I need to nail down some important details about the magic system. Once that's done, I can dive into both this story and the rest of the series.
Solstice Flames
The final draft is due by the 12th for proofreading. Thankfully, I think I'm almost done with revisions. I can't wait to share this retelling with you–it will be published as part of the fourth JL Anthology.
Monsieur Puss
This story has been sent to the judges for review. Once I receive their feedback later this month, I will revise it further.
The Sisters and the Dragon
Kristy and I are hard at work with editing. We're doing a pass through the first draft before we share it with our writers' group for critique. I need to edit five chapters this month to stay on track with our timeline.
Goodreads Challenge
My challenge this year is to read 37 books. I picked that number because I like prime numbers. It might be raised later this year, but for now, I'm planning to read three to four books a month. I have two book club reads this month, so I think a goal of four books in January is definitely doable.
My New Year's Resolutions
Do I put a lot of stock into resolutions? Yes and no. Some years I've set unrealistic ones, other years I haven't put in the effort needed to meet them. But I have a few for this year.
Writing Goals
Publish Upgrade
Publish Within the Ironwood
Publish three short stories in JL Anthologies
Social Goals
Regularly post on my blog
Send regular newsletters
Continue building my social media presence
Personal Goals
Complete my 2018 Goodreads challenge goal of 37 books
Use my Fitbit to participate in challenges with friends
Continue learning Japanese through Duolingo and other sources
What are your goals for January? Do you have any new year's resolutions?