I came down with the flu a little over a week ago. Mostly recovered now, but I lost a lot of time due to the illness. However, I HAVE made progress on a few goals, and now that I'm feeling better, I'll be slowly working on my other goals as well. Won't push myself too hard, because I don't have all my regular energy back.
Without further ado, here's my first update for January's Month Map!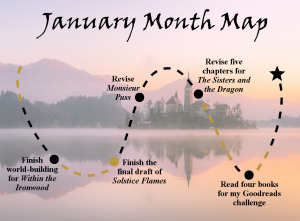 World-building
I've made a little progress on this goal so far this month.
Solstice Flames – DONE!

This project is now finished! More information will be forthcoming soon.
Monsieur Puss
I'm hoping to have the feedback from the judges by the 18th, at which point I'll begin revising.
The Sisters and the Dragon
I haven't made any progress yet on this, thanks to the unexpected bout of flu. Kristy has been very accommodating, and this is currently top priority now that Solstice Flames is complete.
Goodreads Challenge
I've read three books so far this month, and I'm partway through my second book club read. Clearly, the flu was useful for something–I had plenty of time to read!
How are your January goals progressing? How are your New Year's Resolutions going?