Once a month I post a book review for a fantasy novel that I've read in the recent past. These reviews are posted on "Magic Monday", the second Monday of every month.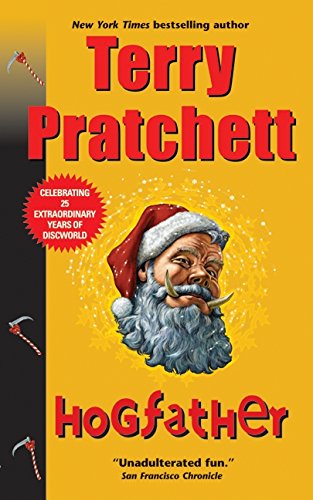 Today I'm reviewing Hogfather by Terry Pratchett, a fantasy novel set in Discworld, Pratchett's wondrous creation of a world that is flat and supported on the back of four elephants standing upon the turtle Great A'Tuin, who slowly swims through space. If you've never read a Discworld novel, I recommend picking one up next time you're at the library or bookstore–they are well worth the read, and there are forty-one books in the series to choose from.
Hogfather tells a tale that is wondrous, hilarious, and heartwarming, just as any good story of Hogswatchnight (the Discworld analog of Christmas) should be. It starts with the disappearance of the Hogfather, a jolly and red-suited gift-giver who is loved and cherished by many of the Discworld inhabitants. A psychotic Assassin and several criminals of various degrees of strength and intelligence are up to suspicious activities, Death takes up the reins–literally–and starts practicing his HO HO HO, and Death's granddaughter, Susan, finds herself being dragged back into the fantastical world she has been fighting to leave in order to live a more normal life.
As the story progresses, Discworld's myth system continues to unravel. New creatures are popping up all over the place, from one that eats socks to a fairy determined to cheer people up to a god of hangovers who, quite appropriately, always has a headache. The wizards of the Unseen University are trying to piece together clues with the aid of a strange machine run on cheese and other components. The Assassin and his compatriots are up to no good, somewhere even Death cannot travel. And poor Susan, who only wanted to live a normal life, is caught up again in events out of her control, trying desperately to save the Hogfather before the mysterious shadowy forces in the background have their way.
Hogfather is a fantastical mix of story, characters, the improbable, the almost impossible, and the unbelievable, with twists and turns and the mixing of folk tales. I've read many of Pratchett's stories, and I'd even seen the movie Hogfather previously, but no film can do a story like this justice, and reading his other books might prepare you for what to expect, but there's always an element of unexpected that keeps me surprised as I turn the page. In Discworld, almost anything can happen. One thing that's for sure, once I pick up a Discworld novel, it's impossible to put it down before I'm done. Hogfather was no exception.
Intrigued? Hogfather is available on Amazon. You can also learn more about Discworld and other books by Terry Pratchett on the Terry Pratchett Books website.
Thoughts? Comments? Let me know below!