Once a month I post a book review for a fantasy novel that I've read in the recent past. These reviews are posted on "Magic Monday", the second Monday of every month.
Whoops! This should have been up on Monday. Better late than never, though, right?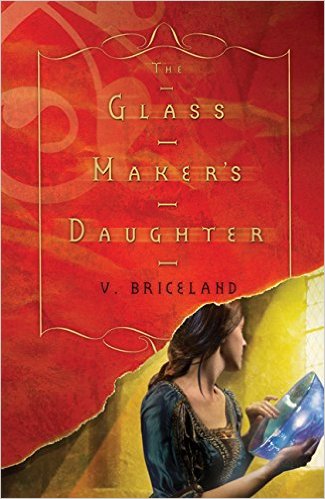 Today I'm reviewing The Glass Maker's Daughter by V. Briceland. The story is set in Cassaforte, a place very similar in some ways to Venice (they have gondolas, for instance), and very dissimilar in others (it is ruled by a king, and there's magic!) I stumbled upon this gem of a book in the library that's just across the street from my friend's house, and read it almost in a single sitting. If I hadn't had to do other things at time I was reading it, it probably would have been a single sitting–it was just that good.
The Glass Maker's Daughter is told from the viewpoint of sixteen-year-old Risa Divetri, the daughter of one of the families of the Seven. The Seven are the highest nobles of Cassaforte, and only at their bequest may a king take up the crown. Every evening, they must perform a ritual flag-raising and horn-blowing ceremony, or their casa–their house and grounds–will suffer grave consequences. Risa has always been fascinated by the sound of the blowing horn, but her father is a traditionalist who will not hear of a woman serving as cazarra, the head of the family.
The story begins just as Risa is preparing for an important ceremony, one in which the gods–of which there are two–will choose a youth to enter one of two insulas (places of learning, where young nobles are taught the enchantments of their family.) However, Risa's ceremony does not going with a hitch… Neither of the gods choose her.
With her future seemingly shattered, Risa retreats into her favorite pastime–working with glass to create beautiful objects. Unfortunately, without the knowledge she would have gained at an insula, she cannot enchant her glass, and her father considers her work pretty…but useless. At this point, I got a wee bit annoyed at her oh-woe-is-me attitude and general tantrums, which continued throughout a good section of the book, but thankfully she started to mature once things started to heat up.
When her parents fail to return from a visit to the palace, Risa finds herself the only one who might have a chance in completing the evening ceremony. She succeeds just in time…only to find herself in even more danger. Cassaforte's casas are falling one after another, and Risa may be their only hope…if she can find a way to save them before it's too late.
Along the course of the story, she picks up friends, such as Dom, the beggar she rescued when he fell into the canal, and Milo, a young guard who never fails to point out her mistakes or make her laugh when she most needs it. (Yes, there is a romantic subplot…but it's subtle enough that I didn't mind it at all, and even rooted for it.)
Although there were times when I really just wanted to give Risa a good shake because of how childish she was acting, I appreciated the balance that her new friends, Milo and his sister, offered in terms of maturity and reminding her that she must act like a cazarra, not a child. There were also times when she was wallowing in self-pity, but her kindness, her love for her casa, and her stubborn attempts to save her family, her casa, and her city, more than make up for it. She's an engaging character, and the setting of the story is beautiful and rich in lore. There are a few other books set in this world, and I plan to seek them out, in hopes that they're as good as the first.
All in all, if you are looking for a story about magic, family and friendship, and a strong-willed heroine, look for The Glass Maker's Daughter. It's available on Amazon, or you might even be able to find it in a local library, as I did!
Thoughts? Comments? Let me know below!