Today I'm happy to welcome fellow science fiction writer Ash Litton to a Blog World Tour: Science Fiction Edition interview! Thanks for being here today, Ash!
Let's dive right into the questions… I know you're currently working on Tragedy of Ice–are there any specific challenges you've come across while writing this particular novel? Anything you'd do differently next time?
A lot of it had to do with strengthening my villain's cause. My first draft, the villains were just there to be villains; sure, they had a reason for wanting to return to Earth, but they didn't have a passionate, morally grey one. I find when you put the villains into the morally grey area that you make them simultaneously more sympathetic, but also more of heroes in their own minds. And when that happens, you've found a compelling reason to motivate them to do "questionable" things.
Awesome! I love it when villains are more than just "we're the bad guys come to destroy things". Are there terms in your book that readers might be unfamiliar with? Can you explain some of these?
Haha. Well, writing in the future for Tragedy of Ice and its upcoming sequels, I knew there had be some new (though infrequently used as to not overwhelm) slang. One example is a "t'amer", the "two-AM"er version of a "nooner". Not a booty call, by any means, but a "Hey, I missed you, I can't stay long, but wow, you look great, can I take you to bed for a few minutes before I have to leave?" Busy schedules of dating scientists trying to save humanity and all that.
I must confess I don't know the slang "nooner", either, but it's neat how you developed a futuristic version for your characters to use. When you write, do you work to an outline or plot or do you prefer just see where an idea takes you?
I'll get an idea, try to outline the general path I want it to follow, then once I start to write, I let the story go where it will. I'll revamp my outline occasionally, but it's best to fit the outline to the story rather than the story to the outline.
That's a neat way to do it! I should try it sometime–I generally pants my stories but I like the idea of fitting the outline to the story. Would you say that being a writer is a gift or a curse?
A little of both. It's a gift, because it's something to do that you can get better at over time. It's also a curse, because it's something you have to do if you want to get better at it over time.
I agree with that. *checks clock* We have time for one more, so let's wrap up with a fun question: If you won ten million dollars tonight, what would you do next?
Student loans: gone. Figure up a retirement investment plan, and put that money away to accrue interest. The rest is a matter of just adulting: house, car, utilities—create a budget for those that I don't have to worry about them for years to come. The leftover is investment into writing time, in which I would hire people to take care of the various parts of the platform that are time-consuming, yet essential. I'd be more free to take care of the actual writing, then.
Sounds like pretty much what I would do!
Thanks so much for stopping by today, Ash! Best of luck with your writing endeavors.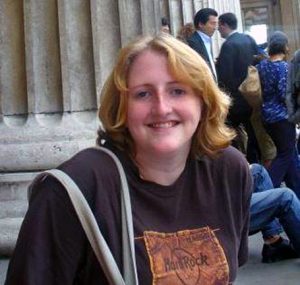 Ash Litton is a writer and lover of sci-fi, fantasy, and all things fictional. She is the author of No Signal, Thoroughbred, Evening Hallow, Comeuppance, and Cabover Cabaret, and works on other Appalachian Dream Tales between her ongoing novel projects.
When she's not writing, she's drawing, and when she's not doing either of those, she's dreaming up new projects to work on. Born and raised in rural West Virginia, Ash has always wondered what things lay hidden in the hills around her. She attended West Virginia University, where she studied the English language before returning home to her family in rural West Virginia.
You can follow her on her website, as well as Facebook and Twitter.