Yesterday, I reviewed Horrid for my Magic Monday series. Today, I welcome its author, L.C. Ireland, to my blog for an author interview!
Thank you so much for being here today, L.C. Let's start with a simple question: When did you start writing?
In middle school, I wrote short stories and poetry. I wrote a serialized novel and passed it around to all of my friends to vote on what happened next. In high school, I started writing my own plays and it sort of took off from there. I wrote children's plays for a couple years before I decided to take the dive and try to actually write the novel that I'd been planning since I was a kid.
That's awesome! I actually wrote a few serialized stories in the same manner–one of them I'm currently reworking into a novel. Though I didn't ask my friends to vote on what happened next (that would have been a fun idea!) It's neat that you wrote plays as well! What inspired Horrid?
This story started as a one-act play I wrote in high school. It was originally inspired by the scene at the end of Hans Christian Anderson's "The Little Mermaid," in which the mermaid is given a chance to kill the prince who rejected her. I changed her from a mermaid to a normal woman because mermaids are really difficult to maneuver on stage. I had this idea for the show to start at the climax with her holding a knife over someone, and then cycle back from there to show the internal struggle of the character making the decision. In my original version, the ending followed the source material with Delta realizing the only way to escape the witch was to sacrifice her own life. However, when I adapted it to a novel, I realized the dramatic ending probably wouldn't work in that format. I changed the story around a lot so that I could have make the ending happier.
As a reader who prefers happy endings, I am really glad you changed the story around. I didn't make the connection to"The Little Mermaid," but now that you mention it, I can definitely see some similarities.
Is there a character in the story you feel particularly close to? Why?
Each of Delta's sisters is named after my cousins and one sister-in-law, so I feel a special connection to each of them because they remind me of my own family. The actual character I feel closest to is probably Layni. Throughout the process of adapting the play into a novel, her personality and her story remained unchanged. Of all the cast, I feel like I know her the best, like an old friend.
Wow, that's interesting! I rarely if ever name a character after someone close to me, since I would be worried they'd think I had based the character on them. It's wonderful that you chose to do so, though.

If you could visit your book's world for a day, where would you go and what would you do?
I would go to the city of Silverleaf and walk among the silverleaf aspens and just people watch and soak up the details of a world I created from my own imagination. I wouldn't interfere, really. Just observe and soak it all in.
Not interfering is a good choice. I often wonder if I would be able to hold back from doing that; not sure I could!
If you could meet any author, living or dead, who would it be and what would you ask them?
If I could choose any author in the world to meet, I would choose Shel Silverstein. I really connected with his poems as a kid. Through his writing, he taught me a lot about how fun creativity can be. I learned about how few words you need to tell a story and how even the wildest scenarios can be plausible in the right hands.
Oooh, good choice! I love his poetry, although I'll admit that The Giving Tree still makes me cry. He would definitely be an interesting person to meet!
That's all the questions we have time for today. Thank you again for stopping by, L.C. I hope your launch of Horrid goes well!
About the Author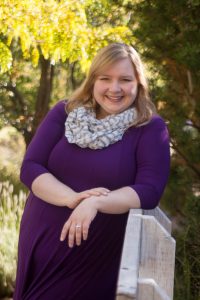 Leslie Colleen "L.C." Ireland is an Arts Specialist in Ogden, UT. By day she works as an educator and arts advocate for public elementary schools. By night, she writes plays and novels. In her free time, L.C. enjoys drawing, singing, playing cards and board games, video games, and going on walks. Horrid, the first in her fairy tale-inspired YA fantasy series Seven Sisters of Silverleaf, released on April 10th, 2018. She currently lives in Ogden, UT, with her amazing husband.
You can connect with L.C. through Twitter, Facebook, Instagram, and her website.
About the Book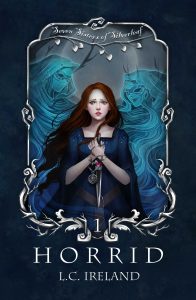 "This is your curse until all is made right:
I'll have my revenge at the stroke of midnight.
For once the moonlight touches your skin … I win."
Delta's family has been cursed. Every night, one of her sisters vanishes; and she's next. Desperate to save her family, Delta makes a deal with the very witch who cursed her. With only three days left to live, she has a terrible decision to make: Kill a target of the witch's choosing or lose her life … and her soul.
If you enjoy Disney movies and Charles Dicken's A Christmas Carol, you will love this exciting original fairy tale about life, death, and the power of love.
You can read my review of Horrid here, and you can pick up your copy on Amazon.