Magic Mondays usually involve reviewing a book that is already released, but today I'm breaking that pattern! Horrid is releasing tomorrow but is currently available for preorder.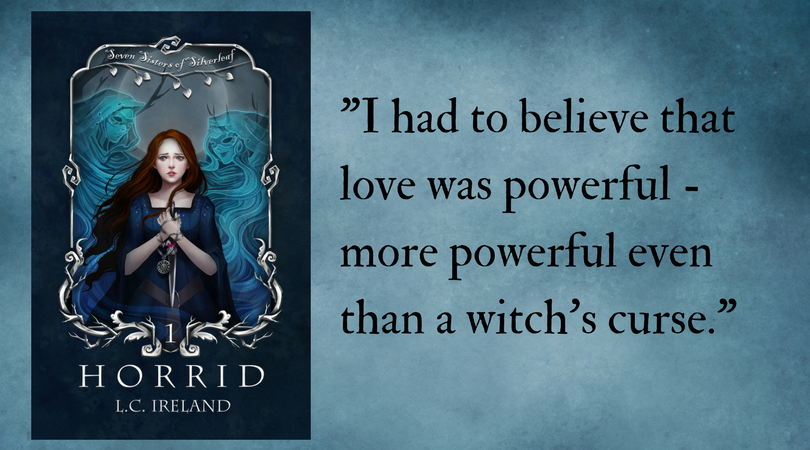 "This is your curse until all is made right:
I'll have my revenge at the stroke of midnight.
For once the moonlight touches your skin…I win."
Delta's family has been cursed. Every night, one of her sisters vanishes; and she's next. Desperate to save her family, Delta makes a deal with the very witch who cursed her. With only three days left to live, she has a terrible decision to make: Kill a target of the witch's choosing or lose her life…and her soul.
Though short, this fairy tale-esque story contains a lot of heart. Delta Delaroe offers her soul for a chance to save her sisters (and herself). The price, however, is the death of someone. When Delta finds out who that is, she is forced to make a choice–and she is aided by two spirits in a manner reminiscent of A Christmas Carol. Having written my own retelling of A Christmas Carol recently, I liked seeing this similar twist.
The story that the spirits share with Delta by showing her past events is inspiring and heartbreaking. The characters involved, especially two of them, deserved so much better!
The witch, on the other hand, was more of the typical villain variety–desiring power above all else. Over life, over others, etc. I spent the entire story begging Delta not to kill the person because I didn't want the witch to win.
The only part of the story that didn't ring right for me was the romantic subplot involving Delta–it felt a bit sudden and forced, given how little the two characters involved knew each other. I would have liked the story better if there hadn't been romance at all. But I'm also not much for romance, as you all should know by now, so this comment should be taken with a grain of salt…
All in all, I enjoyed the tale and I look forward to reading more about Delta and her sisters!
Stop by tomorrow for an interview with L.C. Ireland, and in the meantime, preorder your copy!