My wonderful writers' group, the Just-Us League, is releasing our sixth anthology on October 31st, 2018–the spookiest day of the year! Which is appropriate as the theme of this upcoming collection is paranormal urban fantasy.
Today, we're revealing the cover, and it's another gorgeous design by Indigo Forest Designs!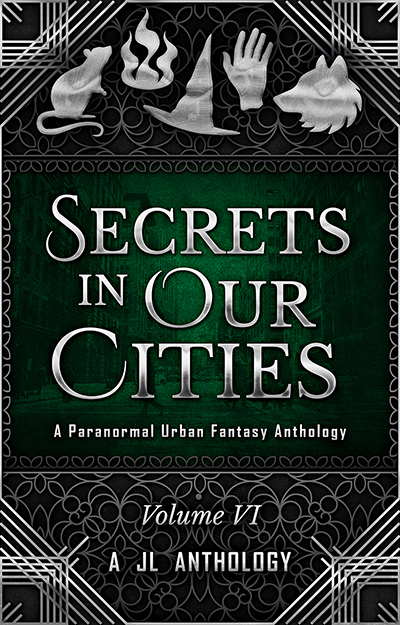 The real world and imagination collide in this international collection of paranormal urban fantasies.
Some cities are inhabited by lycanthropes: a werewolf-turned-private-eye takes on a kidnapping case that upsets his plans for a simple life; a vegetarian lycan must join forces with a local pack to save their city; and a twenty-something werewolf thinks she's the scariest monster in town until she meets a necromancer.
Children are often the center of paranormal activity: a troop of Mountain Gals on a camping trip runs afoul of a witch; a high school outcast pairs up with an angel to guide ghosts to their final rests; a young fae intelligence agent is placed on his first undercover assignment at a high school; and a little girl rattles a zombie-run pub for supernatural clientele when she accidentally begins haunting it.
These young urbanites are more than they seem: a kindhearted girl changes her life forever when she offers shelter to an injured hellhound; a runty dragon dwells in the sewers plotting revenge while dreaming of reliable takeout; and an ordinary detective must team up with a young hotshot magician to solve a mysterious disappearance.
Step across the paranormal divide with these ten short stories, and you'll never look at your hometown the same way again.
Be on the lookout in the coming week for an exciting Scavenger Hunt Blog Tour celebrating this upcoming release!