I know the blog's been quiet, and it's been for a very good reason–I moved site hosts! But we're back now, and to celebrate, I'm very happy to invite the amazing fire salamander Alk to join us for an interview! Alk is a character from H. L. Burke's upcoming novel Spice Bringer. This interview is part of the Spice Bringer Blog tour!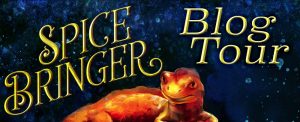 Thanks for being here today, Alk! I promise to keep this interview short, since I know you're very busy. Obviously you love fires since you're a fire salamander, but do you have a favorite kind of wood to burn?
I prefer the aromatic woods. Cedars and tea trees, for instance, but since I like to burn it to the point of red-hot coal, it doesn't matter too much. It all tastes about the same in that form. What I really appreciate is the taste of char.
That makes a lot of sense! I wonder if you'd like pine; we have a lot where I come from. Remind me to get you some for your next birthday.
What are your thoughts on incense?
Unnecessary and humans have exceedingly poor instincts as to what makes a good incense. They have no respect for natural, hearty  smells like sulfur and ozone and too much love for flowers.
Haha! I think humans would argue with you about that, but for the sake of this interview, I won't. (Although I think my namesake's flower has a very nice scent.)
If you could spend a day with anyone in the world, who would it be, and why?
Myself. Nice and quiet. All the coal bathing I could ever want. Perfect. Ovar, my long-time friend, can come along to occasionally feed the flames.
You have a very good friend there!
What's the best thing that ever happened to you?
When Ovar took me from the Hidden Temple so we could  start our own spice grove away from the oversight of his father, I was at first leery of the idea. It seemed foolish to abandon the only home we'd ever known, for me to leave all others of my kind. However, we created something by doing so. We made a home. We found purpose, and I find I like being the only holy salamander in the area. Less need to share the attention and adulation.
That sounds like a wonderful place. I wish I could visit!
Do you sing? If so, what do you like to sing? If not, why not?
Please. I'm a fire salamander, not a canary.
Haha, fair enough! Thank you so much for stopping by today, Alk. It was fun to learn more about you!
Readers, you can learn more about Alk (and his traveling companions) in Spice Bringer, HL Burke's heartwarming story of a young woman struggling to save a very valuable plant.
About the Book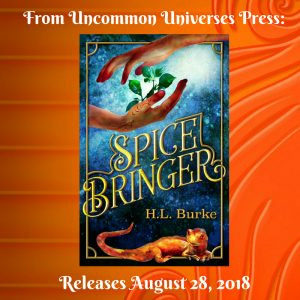 A deadly disease. A vanishing remedy. A breathless journey.
All her life, Niya's known she will die young from the fatal rasp. She survives only with the aid of vitrisar spice and a magical, curmudgeonly fire salamander named Alk. Then an ambitious princess burns down the vitrisar grove in an effort to steal Alk so she can claim her rightful throne. Joined by Jayesh, a disgraced monk, Niya and Alk must flee to the faraway Hidden Temple with the last vitrisar plant, or all who suffer from the rasp will perish.
But even as Niya's frustration and banter with Jayesh deepen to affection, the rasp is stealing away her breath and life.
For a girl with limited time and a crippling quest, love may be more painful than death.
Preorder now: Amazon Kindle, Kobo, and Apple iBooks.
Autographed paperbacks are also available for preorder on Uncommon Universes Press's website. Regularly $17.99, autographed paperback preorders are $14.99 with a free shipping discount (free shipping to US locations only).
About the Author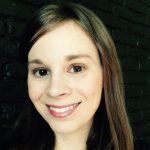 Born in a small town in north central Oregon, H. L. Burke spent most of her childhood around trees and farm animals and was always accompanied by a book. Growing up with epic heroes from Middle Earth and Narnia keeping her company, she also became an incurable romantic.
An addictive personality, she jumped from one fandom to another, being at times completely obsessed with various books, movies, or television series (Lord of the Rings, Star Wars, and Star Trek all took their turns), but she has grown to be what she considers a well-rounded connoisseur of geek culture.
Married to her high school crush who is now a US Marine, she has moved multiple times in her adult life but believes that home is wherever her husband, two daughters, and pets are.
You can connect with her through her Facebook page and reader group, Twitter, Instagram, and her website.