Welcome to March! It's the third month of the year, that time where, in some parts of the world, the snow is finally receding and birds, grass, and flowers are reappearing. Given that it snowed yesterday, it's not quite spring yet here, but the month still has that renewal feel to it. Which is good, because I'm in major need of renewing!
As is clear from my decided lack of posts last month, February kind of went up in metaphorical flames.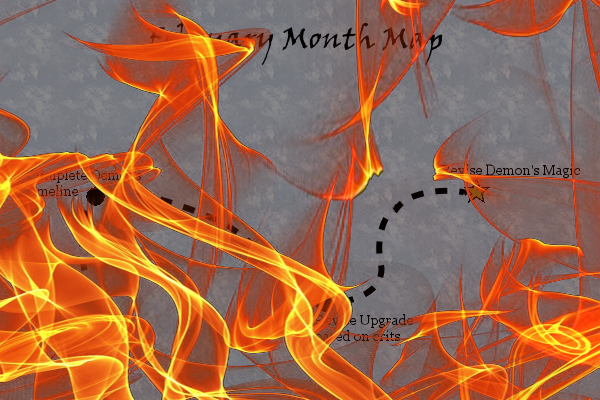 Somewhat crappy graphic, but a pretty good image for describing how February's plans went. Which is really too bad, since January was such a strong start!
However, March, and spring, is a time of renewal, and that means I'm going in with a renewed sense of purpose, determined to get the goals for the month done in a timely manner. And with that in mind, here's my March Month Map!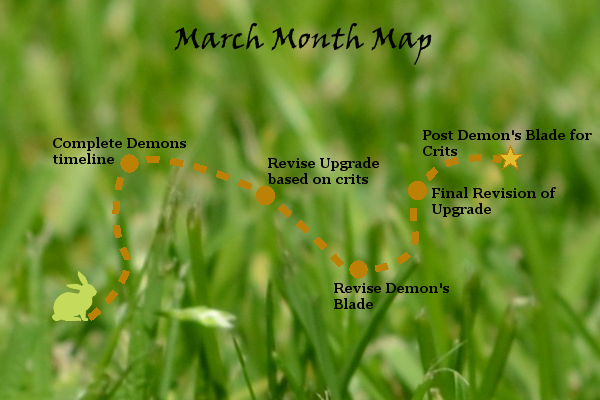 Isn't it a cute little bunny?
I've decided that this month, the bunny will duplicate, with one appearing next to each goal as I complete it. If there are six bunnies at the end of the month, I'll treat myself to something cool. What exactly, I don't know yet. Maybe a pile of new books.
At any rate, though the past is still smouldering embers, I'm looking toward the green grass in the distance and moving forward.