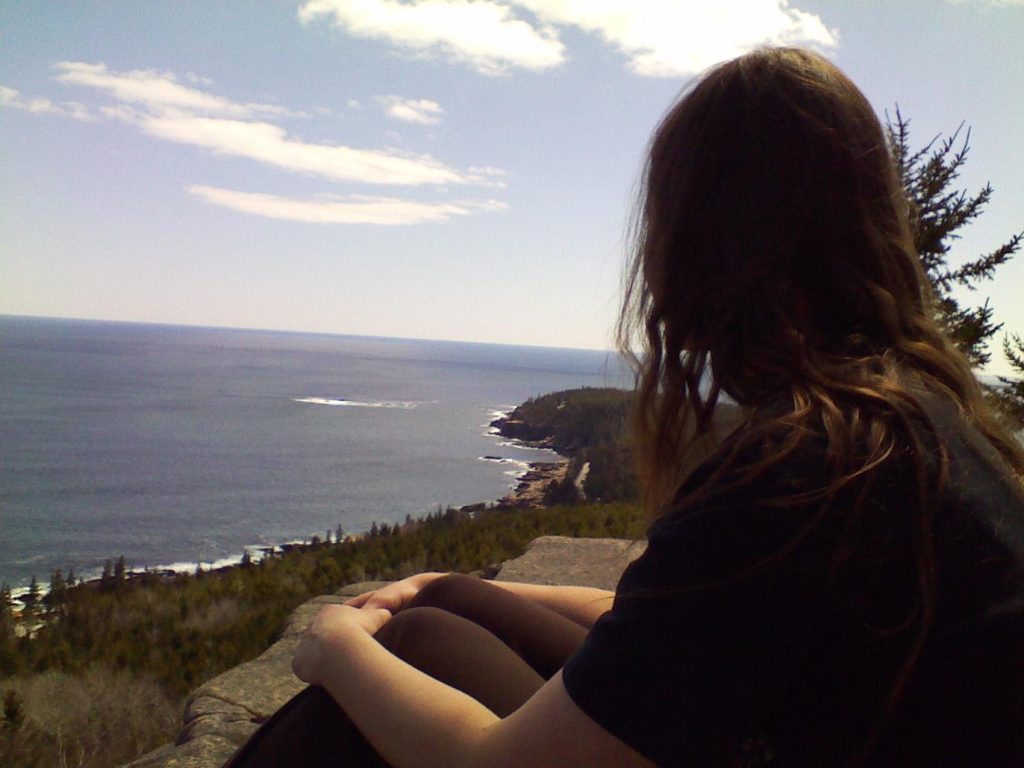 This is a picture of me in Acadia National Park a couple years ago. It's also my current profile picture on Scribophile, because I still haven't gotten a good picture of my face (I'm simply not photogenic.)
I like this picture because it reminds me that sometimes I need to sit down, stare out at the horizon, and just think about whatever comes to mind. Sometimes I get so caught up in trying to do a hundred different things, for work, for family, for friends, that I forget to take a step back and just breathe. And think.
It's a lot easier to do this when I have that flat horizon. One of my favorite summer pastimes is to go running on the beach, then sit on a rock and watch the horizon. Sometimes I talk to myself, sometimes I talk to whatever bird is passing by, or the ocean, or a wandering crab, sometimes I think about life, or my writing, and sometimes I sit there and simply exist.
I love being surrounded by trees, or mountains, or rolling hills. There are definitely times when I feel at peace when surrounded by such vistas. But it's that flat horizon that calls to me most of all.
Yesterday I returned from my trip to Ireland. I posted about a few places I visited, and will be posting about others in the future, but one thing I did not do much of during my travels was write.
Not very writerly of me, right? Well, I felt the same way, even berated myself for being so tired after every day of new adventures and not having the energy to write. And there were days when I did write a bit… I even wrote a short story for a writing contest, completely on the fly! But for the majority of my vacation, I wrote nothing. Not one single word.
I had many plans for April. Write 15 poems! Finish the first draft for Of Beauty Within! Finish editing Upgrade! And so on and so on. I had this vision of myself doing all this while enjoying my stay in Ireland–and even traveling briefly to Scotland and England (a trip that deserves its own post(s) at some point!).
How many of those goals did I accomplish? Writing-wise… I accomplished none of them. Not. A. Single. One.
A few days before the end of the April, I saw what day it was, and panicked. How could I be so far behind on my goals? How could I get them done now? What a failure of a writer I was! I was disappointed in myself, not least because it had now been more than a year since I published Augment and I still wasn't ready to release its sequel, much less any other books.
Thankfully, a friend of mine came to my rescue. It's not the first time he's talked some sense into me, and I doubt it will be the last, given my propensity for biting off more than I can chew. All I can say is how grateful I am to have someone who doesn't mind telling me when I'm being an idiot.
To cut a long conversation short, my friend highlighted all the things I have done so far this year. A lot of progress with The Astrals. Finishing and further revision on Upgrade. A LOT of critiquing on Scribophile (and I'm currently and working on several more novels, as well as a pile of short stories, right now.) Not to mention doing a pretty good (if not perfect) job keeping up with this blog.
Maybe it's because I often expect too much of myself, that I can't always see the bright side of things. Or maybe there are times when I just need someone else to point out that I am in fact making progress, even when it doesn't feel like it. Whatever it is, my conversation with my friend made me realize the truth–by focusing so much on getting so much done, I was losing sight of the most important thing–myself.
And I don't mean that in an egotistical, the-world-revolves-around-me way. I mean my self, the writer who dreams of adventures in distant lands and galaxies far far away. Every moment I spent berating myself for failing my goals rather than praising myself for accomplishing everything I had done was a moment I was telling my writer's side that I'm not good enough, that I've never been good enough.
Today, while cleaning my room (a long overdue task), I found an envelope with a letter inside from a man I only met once, but who I apparently loaned copies of novels I'd written a long time ago. Part of me immediately cringed, knowing what shape those particular stories were in…but I read his letter anyway.
Here's an excerpt from it:
Make me a promise and continue your writing career. A good book can change the world.
I am looking forward to walking into a book store one day and buying one of your books off the best-seller shelf. Authors need life experiences to draw upon in their writing, so go experience a lot of life in as short a time as possible.
This letter is from five years ago today. In those five years, I found the college of my dreams, earned my degree, and published my first novella. I also found friends, and love, and new passions.
So what, exactly, is this post about? It's about remembering the important things, most importantly, to do what is right for myself. Right now, I'm not an author who can write and publish a book every few months. Perhaps I will never be that author.
But I do have stories and characters I care about, tales I want to share with the world. However slow the progress might be, I'm going to keep pressing onward, experiencing new ideas and new places every day. Every journey begins with a single step… And every story begins with a single word.