Once a month I post a book review for a fantasy novel that I've read in the recent past. These reviews are posted on "Magic Monday", the second Monday of every month. (Except when I'm late, as was the case this month…)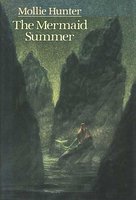 Today I'm reviewing The Mermaid Summer by Mollie Hunter, a fantasy novel for children (given the story, I'd say probably middle grade and up, age-wise.)
Although I haven't read this book recently, it was a staple of my childhood summers, way back when you could order books from a catalog and they would arrive in brown bags (I don't remember more details than that, but they were library books and you'd send them back after a few weeks.) For as long as that program existed, I ordered The Mermaid Summer every year. It is a beautiful, somewhat eerie tale.
The reason the cover picture is so small this time is because I wanted to use the cover from the copy I read in my childhood, which I think best captures the mood of the story.
Here's the book blurb:
About a hundred years ago, they say, a mermaid ruled the cold sea that washed around northern lands

Everyone in Jon and Anna's village knows of the mermaid's beauty — and her cruelty — and is careful to speak well of her. Everyone but their grandfather, Eric, until the day the mermaid smashes his fishing boat against the rocks.

After that, Eric bids his family good-bye, for no one will sail with him again. But Jon and Anna never stop missing him, so they decide they must defeat the mermaid's curse and bring their grandfather home. . .
Now, I'm doing this review from memory, as I don't have access to the book myself right now (though if I find it in a used bookstore someday, I'll definitely snatch it up.) I can, however, attest to the fact that this spellbinding story is part of the reason I love fantasy and the ocean so much today.
The basic story is simple and complex at the same time, and told in third person from Jon and Anna's point of view for the most part. Their grandfather left to travel distant shores, away from the mermaid's influence, and sends them home gifts–a beautiful comb, a sharp knife, lovely silk for a dress the colors of the sea, a conch shell, a mirror… I think there was at least one more, but I don't recall it.
There are legends wrapped around the mermaid, including one that if her hair is cut, she loses her magic, and someone who traps her can force her to grant them wishes. One day, Jon decides to blow the conch shell, and summons the mermaid by accident.
Jon and Anna are both intelligent kids, and they miss their grandfather. They come to the conclusion to make a deal with a mermaid in order to free their grandfather from her curse. His gifts come in handy then, though I don't want to go into too much detail for fear of spoiling the story. It is a definite battle of wills–two kids against a much more powerful and dangerous opponent–and the final confrontation is terrifying. As a kid, I would devour the story over and over, my heart always pounding at each brush with death.
The imagery throughout the story is beautiful. One passage I especially remember is how the mermaid's damp touch took away the shimmering beauty of the silk dress… And another time when she is so delighted with the mirror that she does a flip in the water, and is further excited when she sees that the water does not harm it. And the way the eerie sound of the conch is described…just thinking about it now sends a thrill down my spine.
The story itself has a tight plot and fascinating characters, and the mermaid is beautiful and terrifying in her otherness. I would recommend this for anyone who loves mermaids.
Intrigued? The Mermaid Summer is available on Amazon.
Do you have a story that has stuck with you since childhood, even though you haven't read it in years?