Well, the final results are in!
Did I make all of my goals? No. Did I make good progress on them, though? Yes! Will September's goals be more approachable? Yes!
This is still a learning experience for me, determining what is too much to aim for and what is too little. However, my sister and I recently (read: in the last week) started developing a timeline of deadlines for the next year of writing projects and publications (read: my publications; still sorting out hers though she does have a book in the works!). So I have more concrete goals, and hopefully more doable ones.
Here's the final month map for August: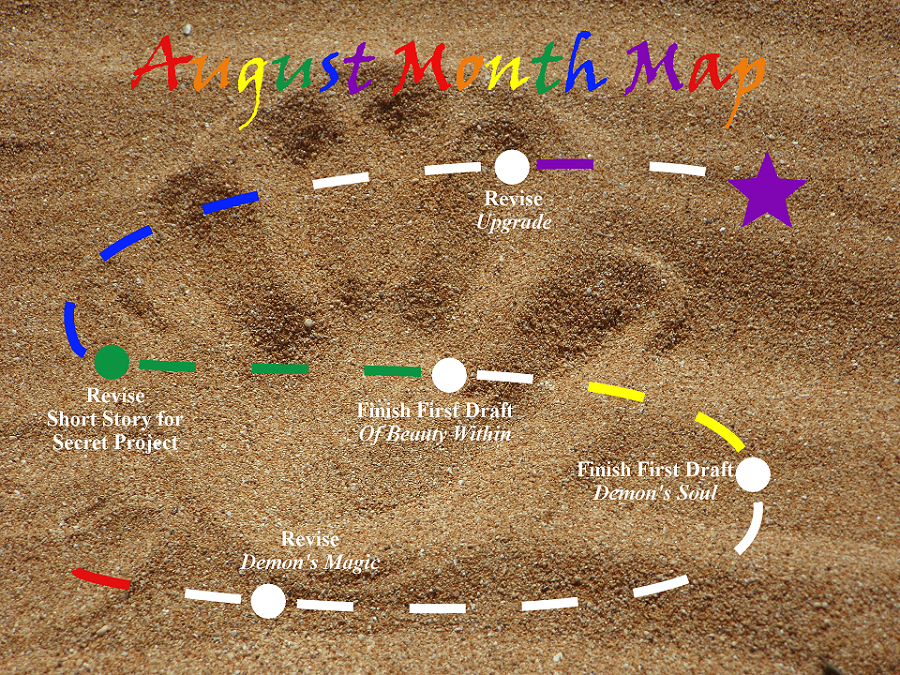 And the final rundown for each goal:
Short Story: Revised at least two or three times (I lost count) this month, so this goal was very much completed.
Demon's Magic: Edited 41/112 pages. Made progress, but will be setting it aside in favor of reworking Demon's Blade in September. Then I'll dive back into this book!
Demon's Soul: Never started. New plan is to polish up Demon's Blade, then Demon's Magic, and then rewrite this book entirely, drawing on some things from the original unfinished draft.
Of Beauty Within: Wrote 12,764 words this month. Nowhere near what my goal was, but still decent.
Upgrade: Edited nine out of twenty chapters. Five of those were in one day–I could have definitely finished it before the end of the month…if circumstances hadn't changed.
What circumstances might that be? Well, I spent the last week or so of August fighting wrist pain, to the point that the last couple days of August I avoided using the computer as much as possible. Today they're feeling better, so I did some things (a small work-edit job, some critting on Scribophile, and a brief gaming session), but I'm still going to be taking it easy for the next week or two, at least until I no longer have random twinges at times.
This isn't a chronic thing yet, thankfully, but it does come and go in waves. The summer before last was the worst–I was barely able to pick up my laptop at times. Last summer held a few bad weeks as well. This summer was better. I simply overdid it moving heavy objects one day and that exacerbated the problem.
September's here, though, and with that comes a fresh start, a new month map, and new resolutions to take care of my wrists, exercise, and most importantly, WRITE.
How did your August goals go? And what are your goals for this September?