November was a crazy month. Not only with National Novel Writing Month and a new (seasonal) job that took up a lot of my time, but also the anthology is being released early this month (December) and a good part of November was spent preparing for that (and I'm still not done! Yikes!)
However crazy December might be, though, I wanted to revive my lovely Month Maps, so here's December's in all its snowy glory: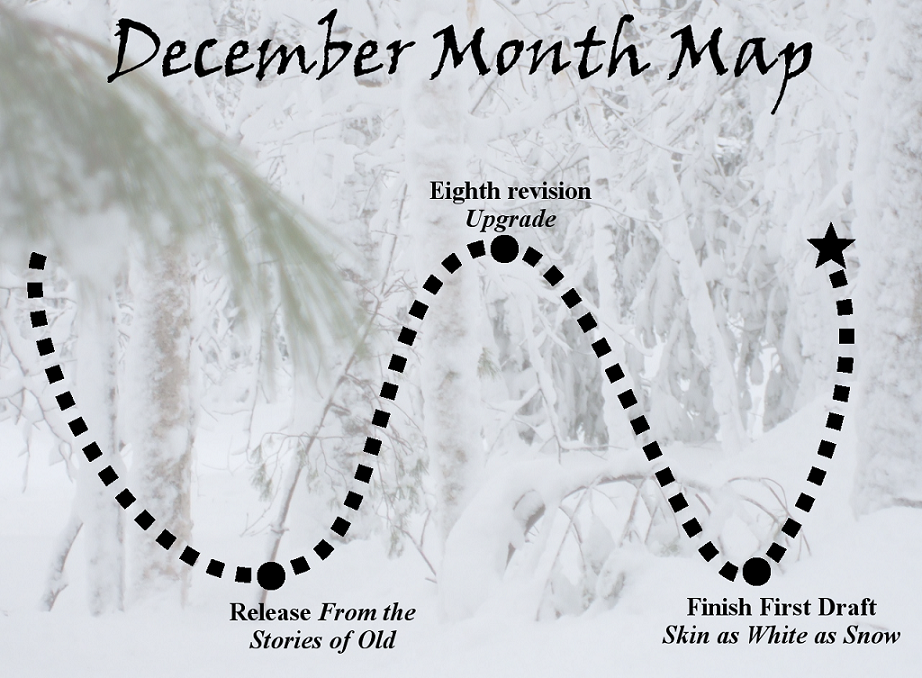 Normally I use an image from Pixabay, but the website was having issues today, so I grabbed an old picture from a few winters ago–that's a bit of the woods right outside my house. So beautiful and snowy, and perfect for a winter month map!
A bit about my goals for the month:
From the Stories of Old: My writer's group, the Just-Us League, is releasing our first anthology, a collection of 13 fairy tales, on December 7th. I'm super excited for the release…and also nervous because I still have a lot of things to get done before that date!
Upgrade: This poor manuscript was been gathering dust for a bit, because I hit some blocks on it. However, now that I've had some time away from it, it's time to dust the pages off and dive back into one last heavy round of editing before the final editing stages commence.
Skin as White as Snow: I won NaNoWriMo for the 10th time this year, but didn't manage to complete my NaNovel. My goal is to type The End by the end of December–shouldn't be too difficult as I think I'm only 10-20k away from that point.
Wish me luck–for the first half of the month I'll still be working long hours at my seasonal job, juggling anthology responsibilities, and working for my other (regular part-time) job, so it's going to be another crazy month. This time, though, hopefully with the occasional update!