April dawned bright, rainy, and hectic… But I finally snagged enough time to sort out my April goals and update my March month map. Let's start with the results from March.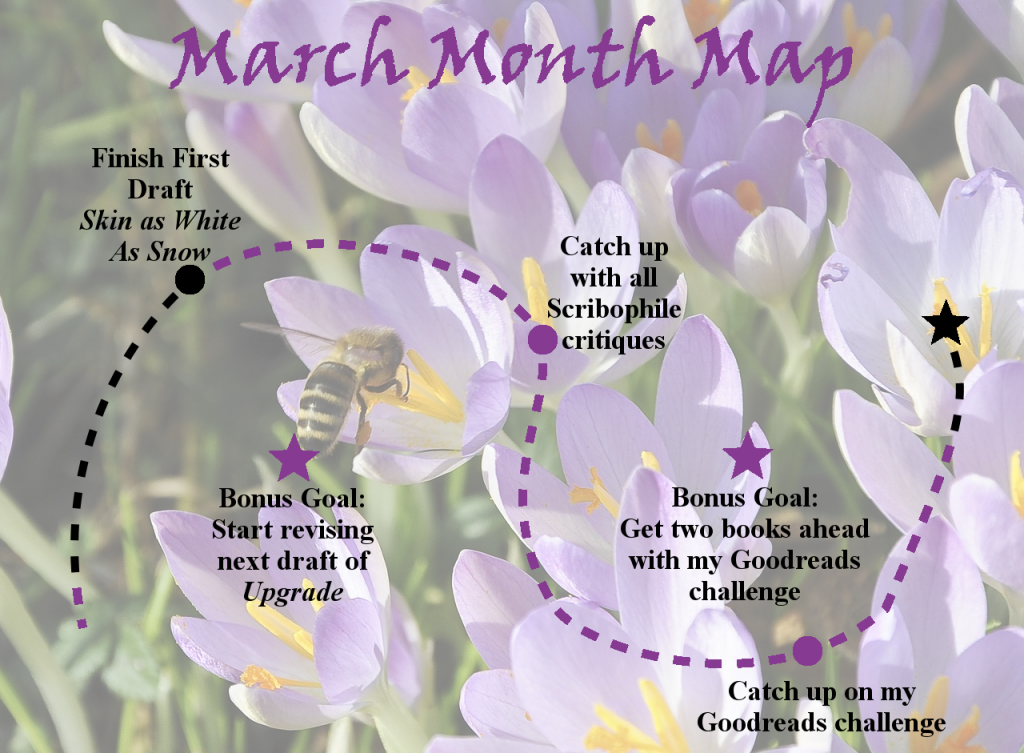 So much color! March was definitely my most successful month yet, in terms of reaching goals. Not perfect, but still good.
A quick rundown of where I was at the end of March:
Skin As White as Snow: I made to partway through Chapter Four. Doesn't sound like a lot, but once I finish this and maybe one more chapter, I'll have filled in a hole between the two sections I had written. Then it'll just be editing time for what's already written and wrapping up the climax and the ending. Hurray!
Critting: I completed 90 critiques on Scribophile and 34 critiques for an offline trade. In other words, this goal was pretty much blown out of the park. I still have some catching up left to do, but after that gauntlet I think I can handle them!
Reading: I managed complete not only my goal of catching up, but also my getting-ahead goal, for a total of thirteen books in March. Granted, some were short stories or novellas, but I enjoyed all of them and that's what's important to me. You can check out my Goodreads Challenge here. My favorite of the month was Where Carpets Fly by Elise Edmonds (you can find my interview with her here).
Other accomplishments: Despite being super-focused on critting, I also edited In A Breath, a short story I'm working on for the next Just-Us League anthology. AND I got started on the final revision of Upgrade (sans proofreading stage, which always takes an extra pass or two to catch all those little errors).
All in all, March was a smashingly good month.
Now for what's coming up in April!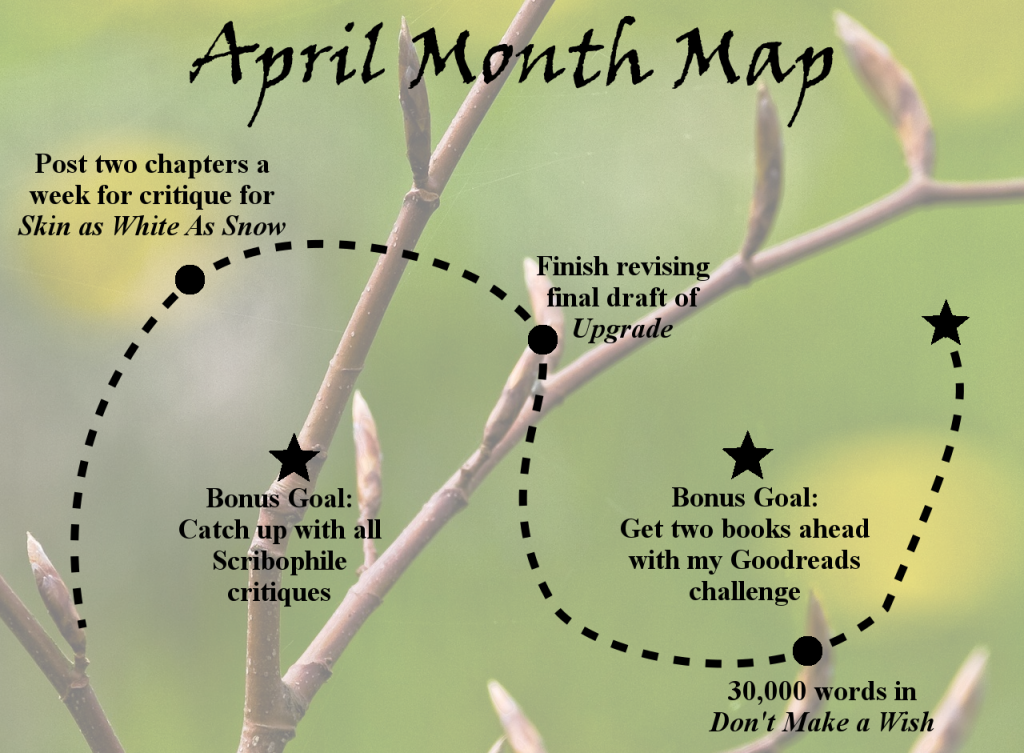 Details regarding my goals:
Skin as White as Snow: I've set myself a goal of posting two chapters on Scribophile a week (two already went live the last week in March.) This will ensure I continue to make steady progress on completing the first draft.
Upgrade: I'm working on the final revisions now. At the end of March I had three of twenty chapters done. I hope to finish the final revisions in the next couple of weeks, and perhaps release it near the end of April if all goes well.
Don't Make A Wish: Once again, I'm doing Camp NaNoWriMo. My goal is small this month–1,000 words a day–and my WIP is a new one called Don't Make a Wish. I even made a derpy mock cover for it! Cover design isn't my thing, but mock covers are quite inspirational for me, so it's doing its job.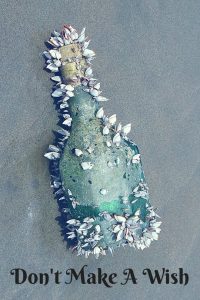 Critiques: I'm not taking on any more novel trades this month so I can finish catching up with all the ones I have going right now. I had a total of 42 crits to go at the beginning of the month and should have no problem completing them well before the end of the month.
Reading: I'd like to stay two books ahead on my reading goal, just to have that buffer, and I'm going to keep reviewing each book I read. Looking forward to more good reads this month!
Because it's already April 6th, I'll probably do a Week 1.5 update or perhaps even save the update until Week 2. For those of you who are curious, though, I'm currently at 1,767 words for my new WIP, I've completed 10 critiques, and read one book so far.
What are your April goals?