Today's Magic Monday post features a short story rather than a full-length novel. Why? Because I enjoyed it so much!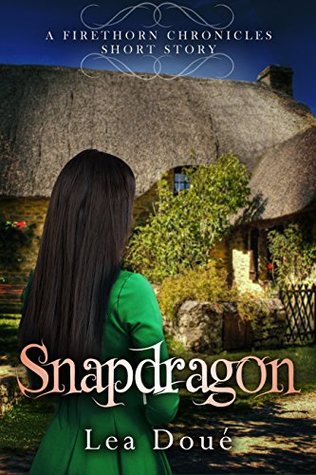 Here's Snapdragon's blurb:
Scarred and isolated, and bound to her beautiful twin sister through a horrible curse, Ryll passes her days in their country manor, resigned to her lonely existence. When she receives an unexpected gift from a village boy, her prospects for the future look bright for the first time in her life. Her happy daydreams soon lead to desperation, however, after she loses the precious item down a well. A tiny dragon offers to fish it up for her, but his help comes with a price.
As the fairy tale lovers among you may have guessed, this story was inspired by The Frog Prince. However, it takes the simple fairy tale and spins a more elaborate and in-depth story, with developed characters and a beautiful country setting.
In this story, the main character (Ryll) isn't a princess, but she bears a curse worthy of one. Thorns cover her skin, marking her as different and causing the villagers to avoid her. Her lovely sister bears a different sort of curse that also isolates her due to its deadly nature. Neither of them are happy, but both are resigned to their fate.
Until, one day, Ryll receives a gift from a village boy, and she starts to imagine things could be different. Her carelessness leads to the gift's loss in a well, however. That's when a little dragon called Jorey comes to the rescue… Jorey isn't a prince, but he has a kind heart that every prince should strive to possess. I loved watching their friendship develop as the story unfolds.
After this brief taste of Doué's work, I'll definitely be checking out her other stories. And I highly recommend Snapdragon to all readers who love fairy tale retellings (and dragons!)
Intrigued? Snapdragon is available for free as an ebook on Amazon.
If you want to learn more about Lea Doué, you can connect with her through her website, Twitter, and Facebook.