Despite the flu and a sudden influx of work, I got a lot done this month!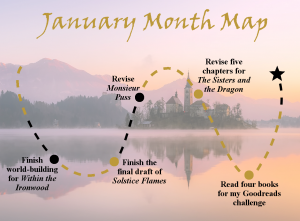 World-building
I made some progress on this, but I still have more to go.
Solstice Flames – Done!

Releasing next month in Of Legend and Lore! If you didn't catch my announcement post last week, see it here: New Anthology Announcement!
Monsieur Puss
I have the feedback from the judges (mostly good, yay!) and two awesome partners to work through this story with me. Unfortunately, time has been lacking due to work commitments, so this goal will have to be pushed back to February.
The Sisters and the Dragon – Done!

We're about halfway through the current draft now! Currently, we're preparing it for critique, with the plan of releasing it later this year.
Goodreads Challenge – Done!
I smashed my target of four books this month, reading a total seven books. Six of them were fairy tale retellings and the seventh involved the Faerie Realm… I think I should attempt to be a little more diverse next month, haha! You can follow my challenge here: Heather's Goodreads Challenge.
Other Exciting Things!
I defeated the cruel illness known as The Flu by lying around in bed and watching Netflix (and reading, when I felt well enough to hold a book).
My freelance editing picked up a bit, which is exciting–I love working with clients to improve their manuscripts.
I started volunteering at the Butterfly Conservatory at the American Museum of Natural History.
I reconnected with an old friend; we're meeting up next month at a cat cafe.
January has been an amazing month of some downs but mostly ups. I can't wait to see what February has in store!
How did your January goals go? Anything exciting happen this month?