If you're subscribed to my blog through WordPress, you may have received an email earlier today about a blog post that currently doesn't exist. I accidentally published my Magic Monday post for this month instead of scheduling it as I meant to. It is now scheduled for the 12th, and thus inaccessible at the moment. My apologies for any confusion that may have arisen!
Today's post involves two things: sharing my February Month Map and more info about the upcoming release of Of Legend and Lore.
First, let's see that shiny month map!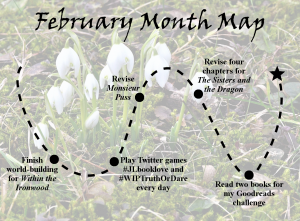 World-building
I hope to finish this task this month, as my muse is longing to return to working on the novel itself.
Twitter games

I co-host #WIPTruthOrDare; it's a fun monthly Twitter game. This month's focus is world-building (yes, I picked the theme, haha). Also happening this month is #JLbooklove, run by the Just-Us League; we're celebrating romance and fairy tales this month as we lead up to the release date for Of Legend and Lore! If you're on Twitter, come join in the fun.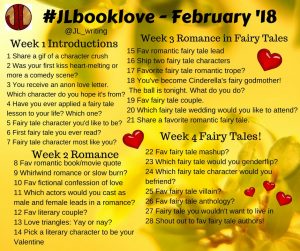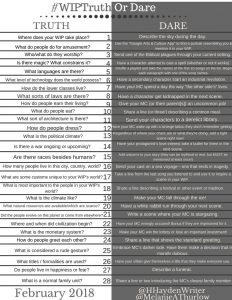 Monsieur Puss
I have the feedback from the judges (mostly good, yay!) and two awesome partners to work through this story with me, so progress will be made this month!
The Sisters and the Dragon

Kristy and I plan to have the entire manuscript read for critique by the end of the month. After that, editing will likely take a few months, then we'll release this fun fantasy novella about two twins who find themselves saddled with a rather unusual charge.
Goodreads Challenge
Given how busy this month will be for me, I've set a small goal of two books for this month. You can follow my challenge here: Heather's Goodreads Challenge.

In celebration of the upcoming release of Of Legend and Lore, the Just-Us League is hosting a blog tour of interviews with the authors! Here are the dates and info:
Just-Us League hosts B.C. Marine — 5th February
Cover reveal on the Just-Us League blog — 7th February
Allie May hosts Matthew Dewar — 8th February
J.E. Klimov hosts Kelsie Engen — 13th February
Louise Ross hosts M.T. Wilson — 16th February
Heather Hayden hosts Allie May– 19th February
Kelsie Engen hosts Renee Frey — 20th February
RELEASE DAY — 26th February
M.T. Wilson hosts Sam Waterhouse — 1st March
Kristen Kooistra hosts Louise Ross — 2nd March
Elise Edmonds hosts J.E. Klimov — 7th March
J.E. Klimov hosts Heather Hayden — 9th March
Allie May hosts Elise Edmonds — 12th March
Be sure to check out the blog tour over the next month, and let me know in the comments what your February goals are!