This post is a few days late, mainly due to that being how it took to recover from my awesome but tiring weekend of cooking and socializing. Sadly, I did not have time to get in any April Fool's pranks. Perhaps next year!
Here's my final month map for March…my first completed one this year! (I think. I haven't bothered to go back and check.)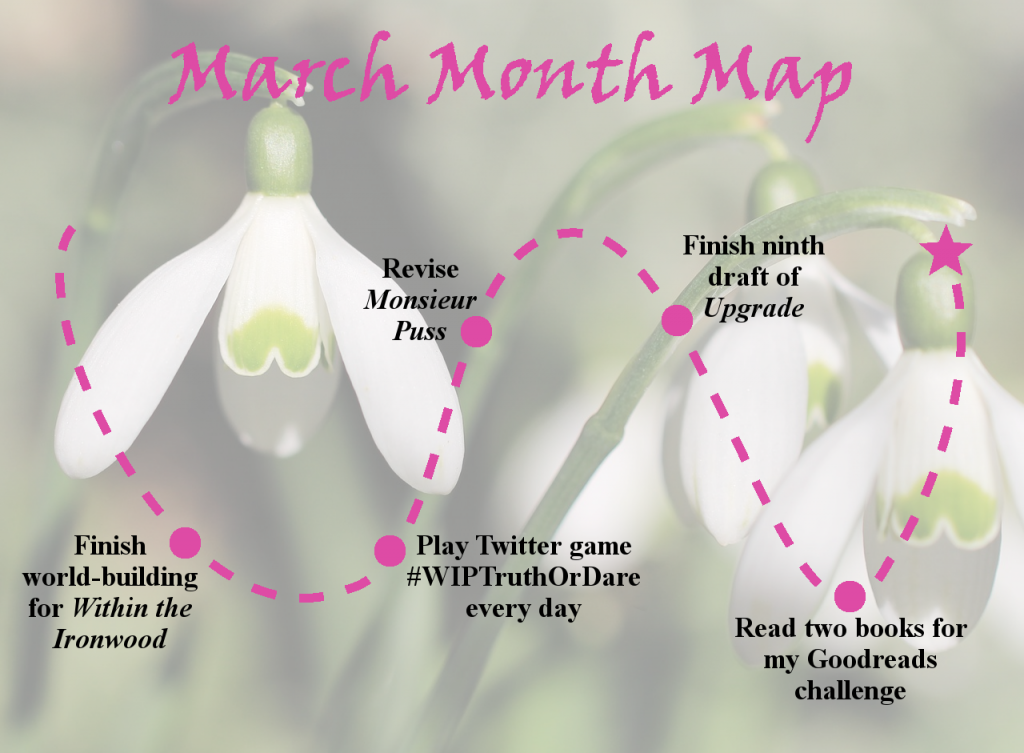 World-building – DONE!
Thanks to the continued prodding of my friend, I've reached the point where I can start writing again! Is ALL the world-building done? Probably not. But some of it will need to be done as the story is written, not ahead of time. So for now, I can cheerfully set aside the folder of printouts and notes and dive headfirst into my novel.
Twitter game – DONE…?

Due to both work- and personal life-related stress, I didn't have much energy for social media in March. However, I did play as often as I was able to, and I also managed to put together April's #WIPTruthOrDare (with the continued and awesome help of Allie May).
Monsieur Puss – DONE!
I sat down and revised Puss in one sitting earlier this month. My awesome partners have since looked it over and announced that it's getting close to ready–I'm hoping I only have another minor draft or two to go.
Upgrade – DONE!
I am FINALLY done with the ninth draft of Upgrade. I have a page or two of notes of things I need to change or add or remove…and then it'll be on to the beta-reading stage!
Goodreads Challenge – DONE!
I read a total of 14 books in March (well, kind of–a few shorts and a children's book are included in that number). My favorites were Horrid by L.C. Ireland, Raven's Flight (novella) by Chrys Cymri, and Shadow Boy (short story) by Kyle Robert Shultz. Horrid will be featured in my Magic Monday post on the 9th, and stop by on the 10th for a interview with L.C. Ireland!
You can follow my challenge here: Heather's Goodreads Challenge.
Now for my shiny new month map, and a quick rundown of my goals for this month!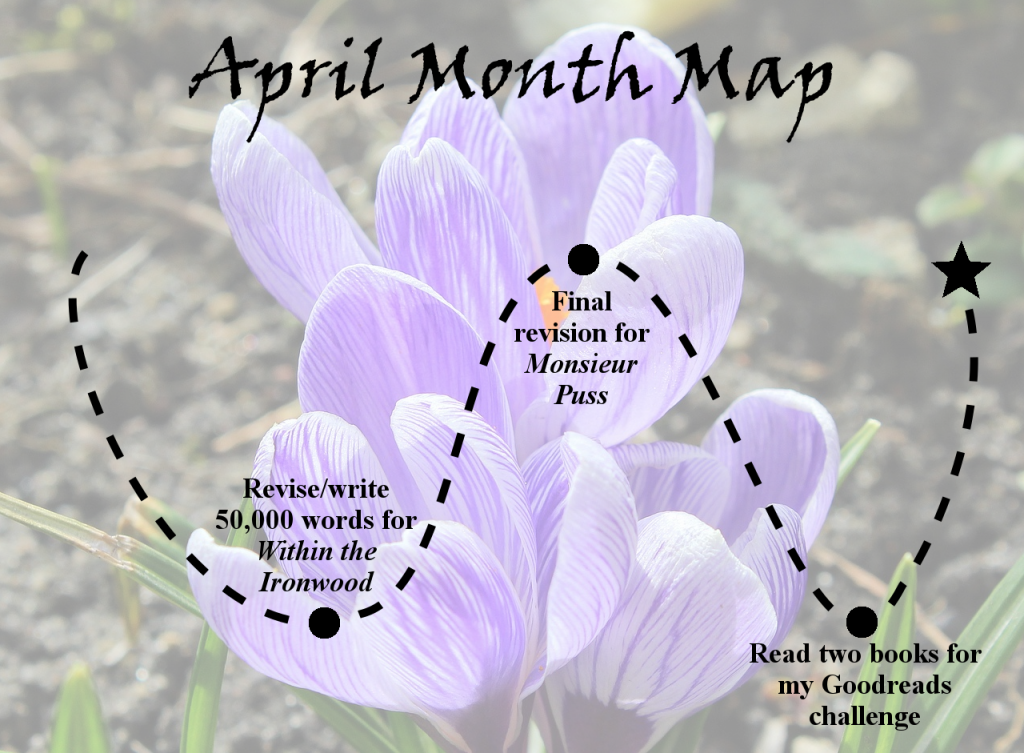 Revise/write 50,000 words for Within the Ironwood
This is my main goal for April. National Novel Writing Month has a Camp in April and another in July. I usually participate in the April one. Now that the world-building is done, I can proceed with revising what I have written to better fit my goal for the novel and then writing the rest of the story.
Monsieur Puss
The final draft is due on April 14th, so I need to get a move on if I want to be done on time!
Goodreads Challenge
As I'm at an astonishing 25/37 books for my Goodreads goal, I'm entering this month with a goal of 3 books. Given that I've already finished two today, it shouldn't be hard to meet that goal, haha. You can follow my challenge here: Heather's Goodreads Challenge.
How did your March goals go? What goals do you have in April?