Welcome, readers! Today, I'm interviewing the fabulous Arthur Daigle as part of the Fellowship of Fantasy's blog tour celebrating their latest release, Mythical Doorways. I previously read his short story "Not Quite a Hero" in the FoF's last anthology, Hall of Heroes, and loved it! He has a new short story, "Idiot's Graveyard," which will be released in Mythical Doorways with 10 other fantastic tales!
Thank you for being here today, Arthur! Let's begin the interview. First question: What inspired "Idiot's Graveyard"?
My story involves an ancient tomb of long dead emperors. In the real world, such tombs were guarded by soldiers and traps, and sometimes were hidden to prevent grave robbing. In a fantasy world, I though such a tomb would have extra defenses, terrible things best left buried. I wondered what would happen if someone released them, and what if they didn't stop at defending the tomb?
What a fascinating idea! I had the privilege of reading your story before the release, and I loved it. Does this short story take place in a larger universe? Is so, are there other books available or planned?
My story uses the characters Dana Illwind and Sorcerer Lord Jayden, who previously appeared in Hall of Heroes. Both short stories take place in the world of Other Place, the same setting as my William Bradshaw, King of the Goblins book and its sequels, William
Bradshaw and a Faint Hope, William Bradshaw and War Unending, and William Bradshaw and Fool's Gold. The book Goblin Stories is also set on this world, so there is a possibility that these characters will meet one another.
Wow, that's awesome! I'd definitely love to read more about Dana and Jayden's adventures. They're such a fun pair. Now to close with a fun question: if you had the opportunity to walk through a doorway that leads anywhere and anywhen, where would you go?
Strange as this must sound, I think I'd rather stay where I am. I read a lot of history books, and I've learned that the good old days of yesteryear were pretty terrible. As for visiting imaginary worlds, including my own, people in them spend a great deal of time trying not to die. Besides, there are things I need to do here before I think about leaving.
Good answer!
Thank you so much for being here today, Arthur!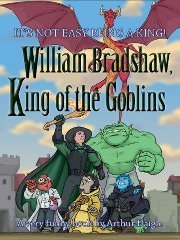 Arthur Daigle was born and raised in the suburbs of Chicago, Illinois. He received a degree in biology from the University of Illinois Urbana-Champaign, which sounded like a good idea at the time. This led to work as a zoo intern at Brookfield Zoo, an assistant fisheries biologist at the Max McGraw Wildlife Foundation, and a research assistant at Morton Arboretum. Most recently he's been employed grading high school essay tests and garden associate (yeah, the job market is that bad). In addition to writing, Arthur is an avid gardener and amateur artist.
Arthur is the author (no jokes, please, he's heard them all) of five books. These include William Bradshaw, King of the Goblins, William Bradshaw and a Faint Hope, William Bradshaw and War Unending, William Bradshaw and Fool's Gold, and Goblin Stories. These books were almost inevitable given that the author has been a fan of science fiction and fantasy since he was old enough to walk. Major influences include the works of the puppeteer and filmmaker Jim Henson and the British artist Brian Froud. Expect more books in the Will Bradshaw series, as all attempts to stop Arthur from writing have failed.
You can follow him on Goodreads.
This interview is part of the Mythical Doorways blog tour! Here's more information about this fantastical anthology, the tour, the Facebook Party, and a paperback giveaway.

Blog Tour Schedule
Tuesday, March 27th
Wednesday, March 28th
Thursday, March 29th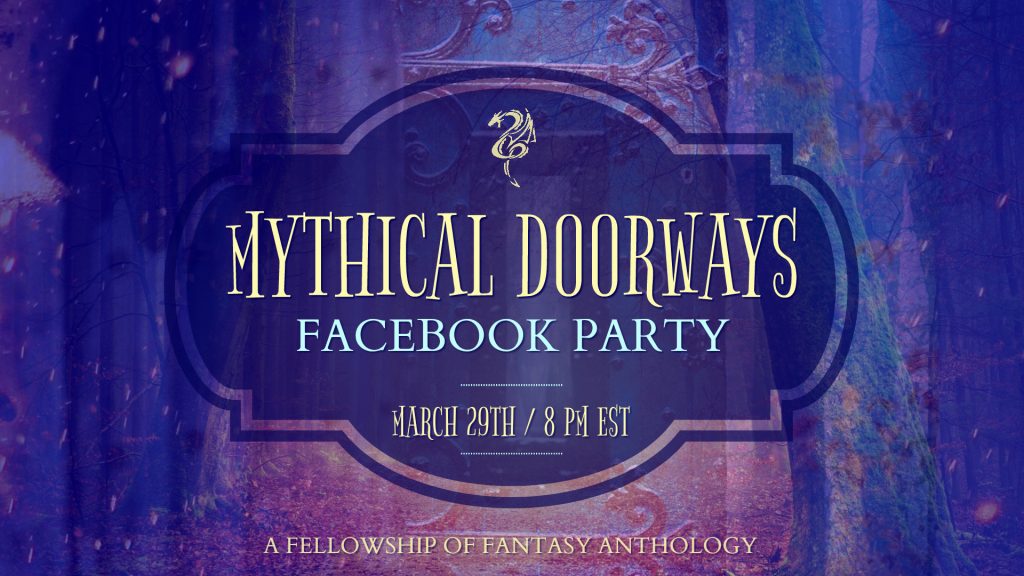 Details about the party:
Fellowship of Fantasy is celebrating their third short story anthology release, Mythical Doorways!
Whether they open onto new worlds or just new opportunities, doorways allow us to step through and uncover great adventures, discoveries, and risks.
Where will these Mythical Doorways take you?
Grab your favorite drink and snack on March 29th at 8 PM EST (7 PM CST and 5 PM PST) and be prepared for a fun time of chatting with multiple authors, games, and giveaways!
Paperback Giveaway
The Fellowship of Fantasy and Deep Magic E-Zine have joined together to offer you an awesome paperback giveaway! Dive into eleven new worlds by entering to win a paperback of Mythical Doorways! (US only.)
About Deep Magic E-Zine: The name Deep Magic pays homage to C.S. Lewis's The Chronicles of Narnia. Deep Magic is a quarterly e-zine dedicated to creating a safe place for minds to wander in the worlds and universe of SFF. We want all who visit to feel welcome and confident that they will encounter professionally written fiction of the highest quality that is safe for all to read.
Click here for more information.
And finally…
The Anthology!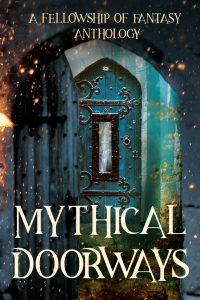 Eleven Tales of Magical, Mysterious, Mythical Doorways!
Step through portals and into adventure as the authors of the Fellowship of Fantasy take you on another journey into fantastic worlds. Travel through time, space, and realities to encounter monsters, mechanical foxes, and the Fates themselves. You'll fly with dragons, save implausible beasts, and perhaps find your true home. Choose your path wisely, for dangers lurk in the lands beyond. 
In the third anthology from the Fellowship of Fantasy, eleven authors promise you journeys into fairy lands hidden within the modern world, futuristic universities, and lands of ancient myth. So what are you waiting for? Cross through our Doorways for the adventure of a lifetime!
Download the ebook (free to download starting March 27th) at your favorite digital store. You can add it to your bookshelf on Goodreads as well!