How is it Monday again already? Time certainly flies when you're busy. Today's post is a quick one, featuring an update of my April Month Map. So far, it's looking pretty good: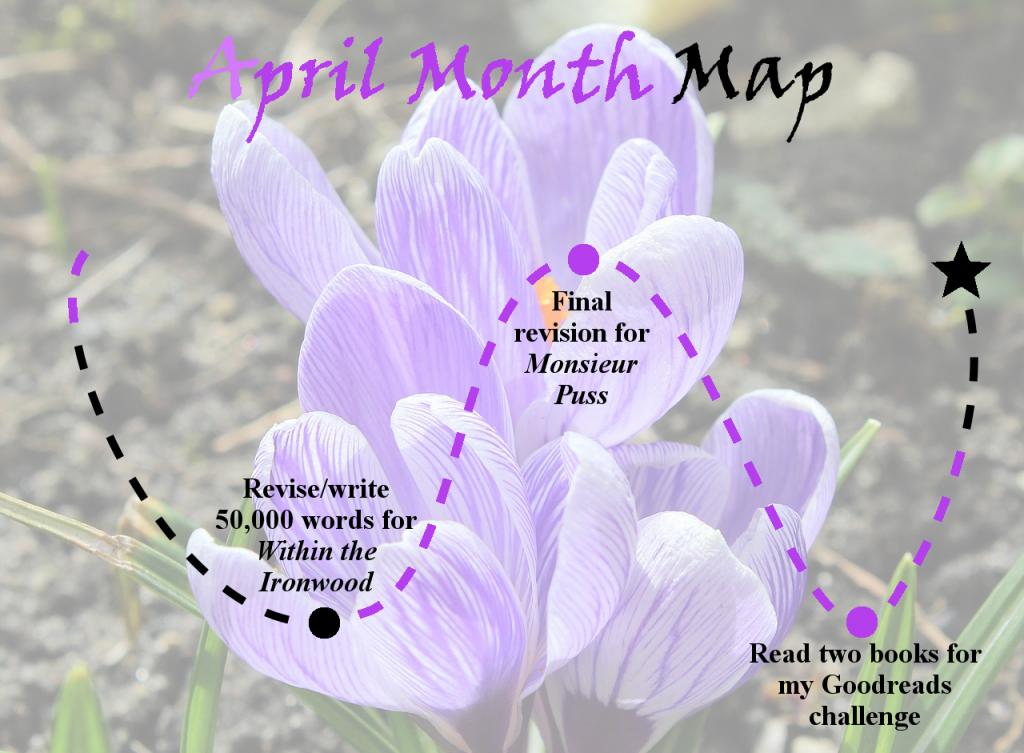 Revise/write 50,000 words for Within the Ironwood
I'm working on Within the Ironwood for my Camp NaNo goal. I may have overstretched a bit, aiming for 50,000 in a month where I'm also doing book signings, author talks, travel, and preparing the next JL Anthology for release next month. But I HAVE made progress, which is good. Not much progress, but some.
Monsieur Puss – DONE!
I finished Monsieur Puss and got it approved by my partners just about on the deadline (maybe a little after, but who's going to quibble?) So that's one writing goal knocked off the pile.
Goodreads Challenge – DONE!
I've read four books so far this month, and I have another two started (just haven't had time to finish them). I also gave myself a goal of three books but didn't update the number on the Month Map. Oops. At any rate, I've completed that goal as well! You can follow my challenge here: Heather's Goodreads Challenge.
Other Happenings
I flew to Maine, surviving both the TSA check and a rather long delay. Did you know you have to take books out of your suitcase at JFK? I didn't, and I had a huge hardcover buried under my clothes. On the bright side, being delayed for 5+ hours meant that I was in no danger of missing my flight while the TSA agent flipped through all 600 pages of Unmasked, Andrew Lloyd Webber's memoir. I'm also very grateful to Delta for keeping us supplied with drinks and snacks while we waited for our plane.
I met my family's new puppy. If you have Instagram, you can follow Princess Lollipop here. She's super adorable.
I did two book signings, and sold books at #1 and none at #2. I did, however, donate three books to someone during #2, for a good cause (benefit dinner and auction to raise money for a stroke survivor).
I've been working through the proofreading for JLA #5, A Bit of Magic, and finally finished today. Stay tuned for a cover release coming early next month! Release day is the 31st.
I became a volunteer for the Cape Cod Writers Center, which has been a lot of fun so far. Can't wait for the conference in August!
How are your April goals coming along? Anything unexpected happen?