Here's is my final month map for April!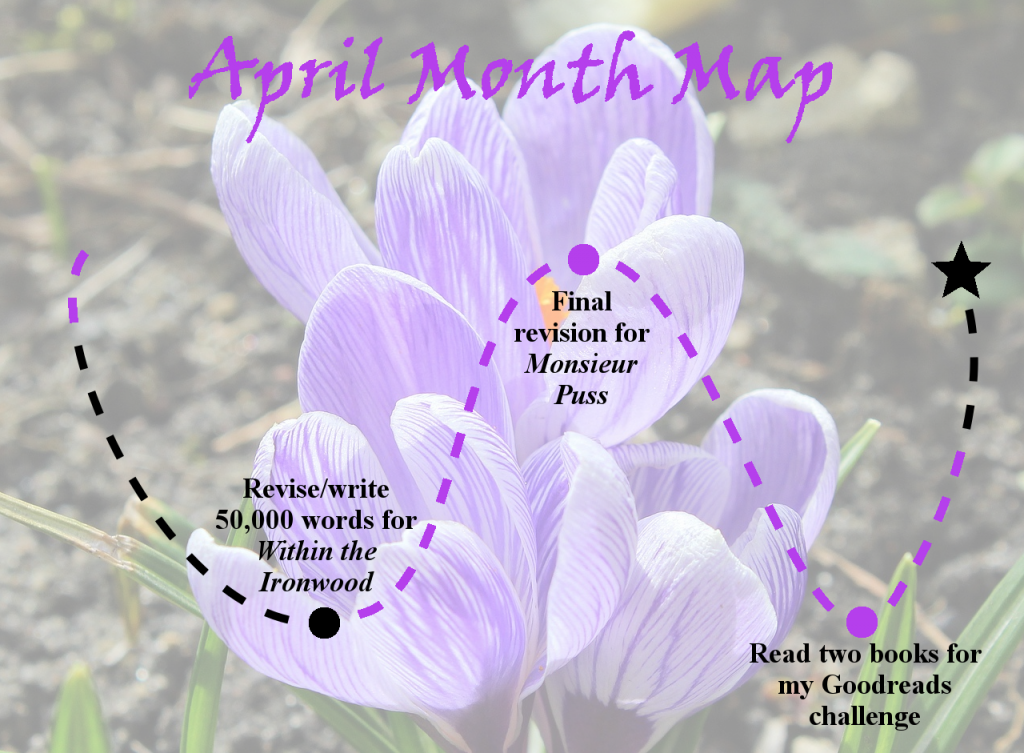 Revise/write 50,000 words for Within the Ironwood
I did make progress this month, and that's good. Did I aim too high? Yes, given everything else going on this month.
"Monsieur Puss" – DONE!
"Monsieur Puss" will be published A Bit of Magic: A Collection of Fairy Tale Retellings on May 31st! Cover reveal and more info to come soon.
Goodreads Challenge – DONE!
I've read four books so far this month, and I hope to finish two more tonight since my suitcase doesn't really have room for them. My favorite read so far has been How to Catch a Unicorn and Other Misadventures: A Humorous Romance Anthology. I don't normally do romance, but this is a hilarious, over-the-top collection of romance tales, and I highly recommend it.
You can follow my challenge here: Heather's Goodreads Challenge.
Other Happenings
I flew to Maine.
I met my family's adorable new puppy.
If you have Instagram, you can follow Princess Lollipop here.
I did two book signings and an author talk. I sold some books and also donated three books to a benefit dinner and auction to raise money for a stroke survivor. They have a GoFundMe page set up for him as well. You can find it here.
I finished the proofreading for JLA #5, A Bit of Magic, and will be working on the formatting this week.
I saw Richard Wood play at a small house concert. My first time hearing him play and WOW. He is AMAZING. If you like fiddle music, I highly recommend checking out his songs. Or attend a concert if one's headed your way!
I became a volunteer for the Cape Cod Writers Center, which has been a lot of fun so far. Can't wait for the conference in August!
As you can see, it's been quite the busy month! I'm still working on the work-writing-personal life balance, so here's to a (hopefully) less stressful May.
The new month map!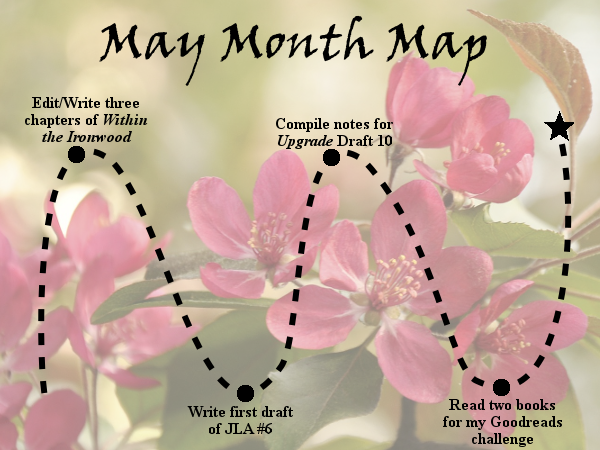 Revise/write three chapters for Within the Ironwood
To complete this goal, I'll need to finish writing Chapter Two and revise Chapters Three and Four. If I aim for one chapter a week, that should be doable.
JLA #6
With JLA #5 releasing late May, the ball has begun to roll for JLA #6. More details to come, but I'm excited to start working on my story for it!
Compile Upgrade Notes
Draft 9 is complete, but I have a lot of notes floating around. I want to compile all of these and figure out a master plan for the final revision stage and its upcoming publication!
Goodreads Challenge
Once again, I'm setting the small goal of reading two books. That should be more than doable, if the previous few months are any indication. You can follow my challenge here: Heather's Goodreads Challenge.
How did your April goals go? What are your goals for May?