July is here, and so is my shiny new Month Map! Butterflies are one of my favorite creatures, so this month's map features a lovely, fluttery insect. I hope to fly through my goals like this little one flies through a flower patch.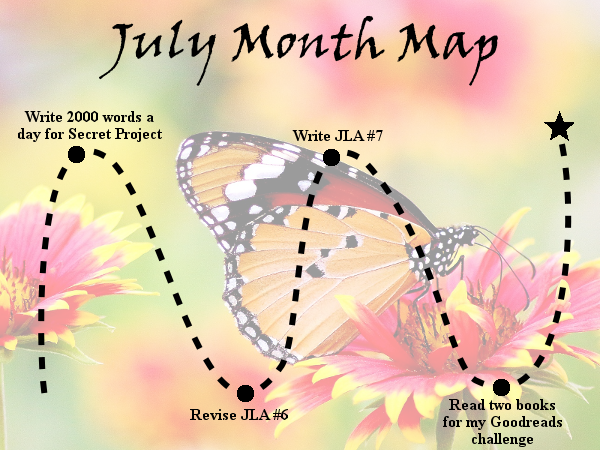 A quick breakdown of my goals:
Secret Project
It's Camp NaNo and I'm hoping to finish the first draft of my secret project under the influence of said writing challenge. I haven't started yet, but the month is still young and I'm hoping to begin tonight if I have time and energy after work!
JLA #6
I'm well into revisions on this short story, and judging time is coming up fast. I plan to revise this one more time in the beginning of the month before it goes off to judging.
JLA #7
I've plotted out this story, so I'll be writing it as part of Camp NaNo. Yes, I'm working on two projects. No, it's not against the rules. At least, I don't think it is…
Goodreads Challenge – DONE!
Like every month so far this year, I've set myself a simple goal of reading two books. I have already completed that goal and then some! (Mostly due to the fact that I took yesterday off.)
What are your goals for July?