It's more than time for an update on my September Month Map!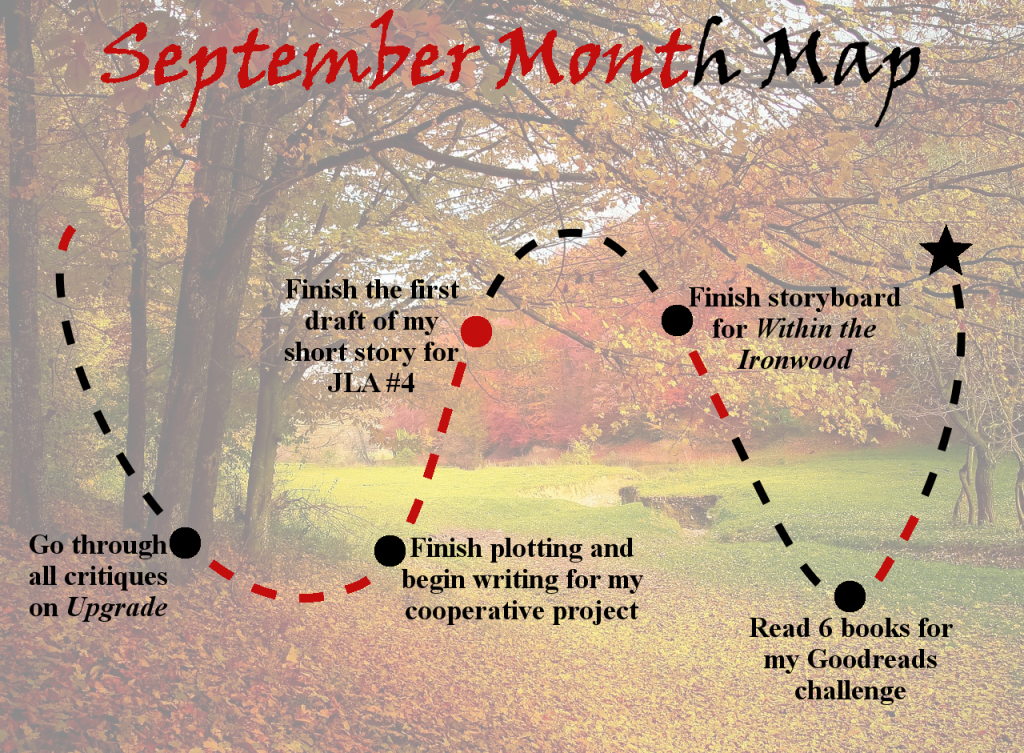 Upgrade
This is more of a bonus goal this month, but I HAVE managed to edit one chapter so far, leaving only five to go. Might get another one or two done if I can find the time.
Cooperative Writing Project
My writers' group, the Just-Us League, started a new, three-month project that involved pairing people up with random partners to write a story together.
At this point, my partner and I have finished the basic plot outline and are diving into the writing process. We're trading chapters because we are each writing one of the two POVs, so once she finishes Chapter One, I'll be starting Chapter Two!
More details to come in the near future on this… But there will be at least one dragon.
JLA #4 — COMPLETE!
The "short" story wound up being a whopping 9,200 words–a bit over the 8k limit. It'll be trimmed down with revisions, though, I'm sure. I'm super excited about this project–I love fairy tale retellings, and I took two rather unconventional stories to retell this time in a mash-up of tales.
Within the Ironwood
I haven't touched the storyboard for this yet, much less started writing. Hopefully I can make some progress on that this week.
Goodreads Challenge
I've only read two books so far this month for my challenge. Technically, one of them was an omnibus of three manga volumes, but I'm counting it as one since it only took a couple hours to read. There's only a week left of the month now, and I still need to read four more books… But I've read that many in a day before when I decided to take a rest day, so I'm not concerned yet.
Quick Announcement
I've decided that starting next month, I'm going to change how I handle posting a bit. I don't want to flood your inbox with too many blog posts and I also want to stick to a clearer schedule. My plan is one a week, with the occasional other post about an upcoming release or giveaway or something like that. My main posting day will be Monday, with other posts scheduled as necessary.
First Monday of the Month: Month Map Monday. This will feature the new month's map and the wrap-up of the previous month's map.
Second Monday of the Month: Magic Monday. My semi-regular book reviews will be returning to a more regular schedule.
Third Monday of the Month: Month Map Update Monday. This will be an update on my progress for the month.
Fourth and Fifth Mondays of the Month: Miscellaneous Mondays. I will feature various posts during these days. Interviews, snippets of my work, a final wrap-up post if it's the last day of the month, that sort of thing.
I can't believe how fast September has flown by… How are your September goals going?