As I just updated my blog banner (so shiny!) and it now includes my next upcoming release, it's cover reveal time! Our amazing cover designer, Louis Rakovich of Indigo Forest Designs, has perfectly captured the feel of the Just-Us League's next illustrated anthology, a collection of original horror stories!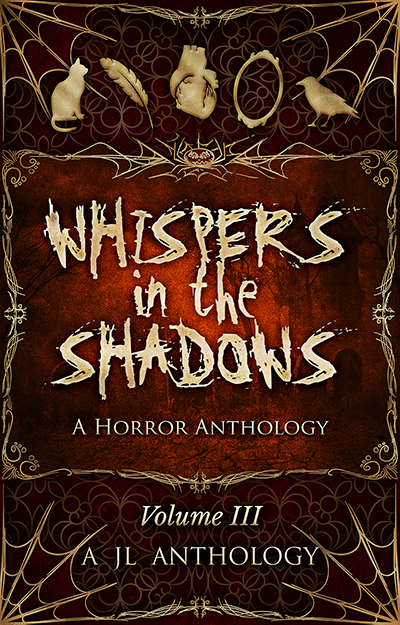 Just looking at it gives me chills! I can't wait to hold a paperback copy in my hands.
Here's the blurb:
Even when we think we're safe, our biggest fears can be revealed, our worst nightmares brought to life.
For some, death is inevitable: a suspended detective and killer play a bloody game of cat and mouse; a girl risks her life to save her friends from an urban legend; a doctor's daughter works to uncover the curse on their wayward ship; and an old lady's cats are hungry…very hungry.
For others, death would have been an easier fate: a reflection isn't meant to talk, let alone free itself; a priestess must renew her people's magic, but that ritual carries a terrible price; and a famous boy rejects a lovesick girl…and lives to regret it.
Through life and death, the only constant is our fear of the unknown: bloody footprints continue to walk around a lighthouse; Grandma's warnings of the Autumn People are finally heard loud and clear; and a girl moves into a new house to find a bloodstained carpet…that no one else can see.
Keep the lights on and brace yourself for ten creepy tales of horror and misfortune.
Whispers in the Shadows will be released in October 2017 on Friday the 13th! It will feature my short story, In Her Reflection, along with nine other awesome, creepy tales.