October is here! Fall is in the air. Well, kind of. It's supposed to get warmer again this week here in Cape Cod, which means I'm not really feeling the autumn spirit yet. But I look forward to seeing the changing leaves! And the promise of snow looming on the horizon! I LOVE snow!
But I'm getting ahead of myself. Here's my month map for October!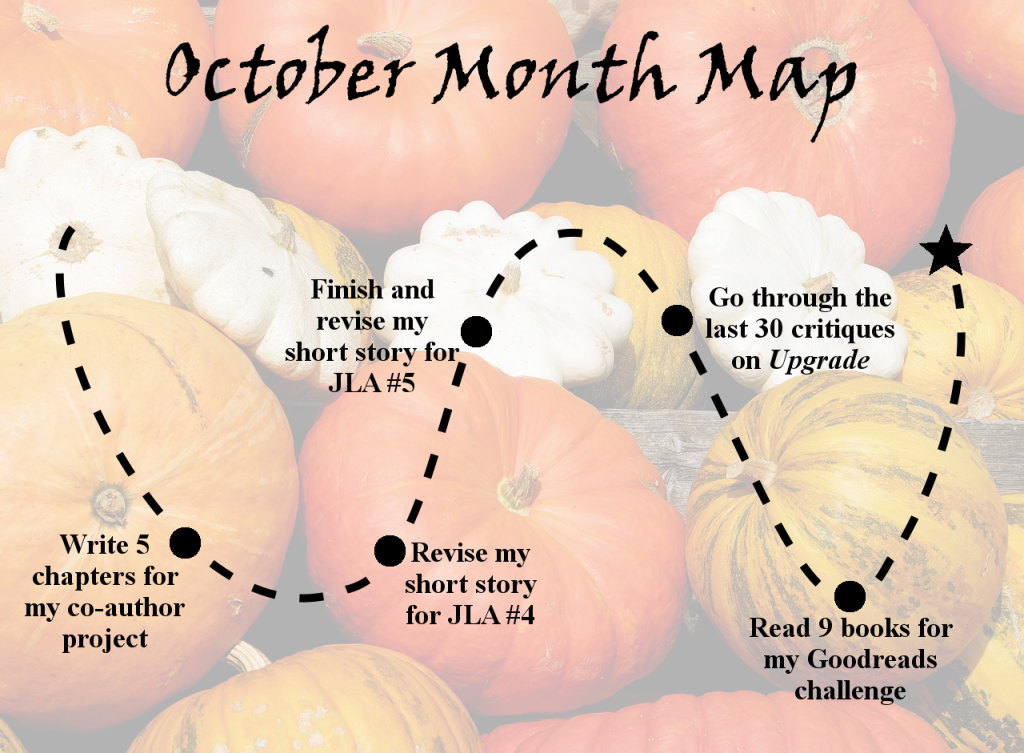 Let's do a quick rundown on each goal I have for this month…
Cooperative Writing Project
My writers' group, the Just-Us League, started a new, three-month project that involved pairing people up with random partners to write a story together.
I have teamed up with Kristy Perkins (who I'll hopefully drag over to my blog later this month for an interview), and we're having a blast so far! We take turns writing chapters from the POV of our characters, passing the electronic quill back and forth as we bring our story to life.
This month, our schedule has me down for five chapters, and I'll do my best to keep up with that goal as the month progresses!
JLA #4
My goal this month is to revise this short story down to around 9,500 words. 9,000 would be better, but I don't want to sacrifice story, so we'll see how it goes. I also need to do a little more character tweaking for the main protag/antag, who has been a lot of fun to write.
As I'll be handing out hints in my Twitter games (#WIPTruthOrDare and several others), I'm going to reveal now that this fairy tale retelling is a mash-up of A Christmas Carol and The Little Match Girl. Unconventional choices? Yes. Lots of fun to mix together? YES!
JLA #5
I need to finish the first draft of this story by the 7th, and then I want to revise it at least once before the end of the month. This is a second fairy tale retelling (yes, we have two fairy tale anthologies on the way! I'm super excited!) This is a more conventional tale…but I'll reveal more details in the future. I will say for now that there is a cat in it.
Upgrade
I have four chapters left. If I do one a week, I should be able to avoid burning out. Then I can toss it on my Kindle and read through the entire thing like it was a book… Hopefully, a book close to completion!
Goodreads Challenge
This month, I need to read nine books for my challenge. Ten if I want to be back on track, but with 27 left of my 100-book goal, nine a month will get me there. I can do this!
What are your plans for October?