It's the third Monday of the month already? I can't believe how fast time has flown by!
Here's my updated Month Map: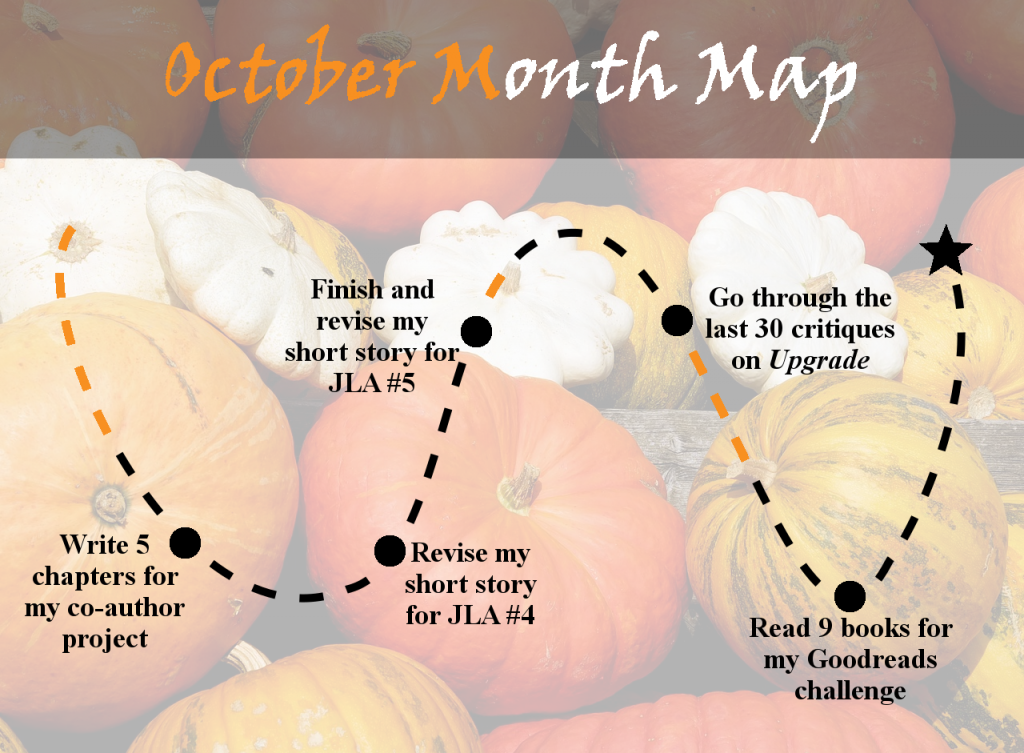 Cooperative Writing Project
My writers' group, the Just-Us League, started a new, three-month project that involved pairing people up with random partners to write a story together.
I have teamed up with Kristy Perkins (who I'll hopefully drag over to my blog sometime soon for an interview), and we trade chapters for our dual POVs. My character is a self-taught mage named Nydia, and I really love how she and her sister, Tassi, are developing!
So far this month, I've written three chapters out of the five I have slated for October. The first chapter I wrote this month was late, breaking our ahead-of-schedule streak, but we both worked hard to get back on track.
JLA #4 — Solstice Flames
This is a fairy tale retelling mash-up of A Christmas Carol and The Little Match Girl. I've received positive feedback so far regarding it, though I still have some revision to do. I haven't touched it yet this month, but I will be revising it at least one more time before it goes to the judges in early November.
JLA #5 — Monsieur Puss
I finished the first draft of this Puss in Boots retelling early this month. Yes, that's right, Puss in Boots! I really loved how the cat's perspective came out (there are several scenes from his POV). Now I'm waiting to receive feedback from my awesome critiquers before I dive into revision. This story clocked in at about 10,500 words…a bit too long, but I'll be trimming it down during the revision process. It's only a first draft, after all.
Upgrade
I've revised one chapter of Upgrade so far. That's 6/30 critiques done and 24 to go. Intimidating, but achievable.
Goodreads Challenge
I haven't had a ton of reading time this month, but I have read four books so far, out of my monthly goal of nine. If you love fairy tales, I highly recommend checking out The Beast of Talesend! I'll be reviewing it for November's Magic Monday post.
How are your October goals progressing?