Welcome to this stop on The Aeonians blog tour! I'm delighted to be hosting my good friend, J. E. Klimov, for an interview about her upcoming release.
Hi, J. E.! It's so good to have you here today. To begin our interview, how about you share a bit about yourself?
Hi, Heather! It's an honor to be here–so thanks for having me. I'm a humble author with two short stories under my belt, published in the Just-Us League anthologies. Now, I'm finally happy to say that Silver Leaf Books has accepted my submission, and I will be publishing my first novel, The Aeonians.
Congratulations! I can't wait to read it. I'd love to hear more about the journey your story has taken you on. How did The Aeonians come to be?

The journey certainly has been an interesting one! My dream was to become an author and illustrator; however, family pressures have steered me towards a career in pharmacy. I first hand wrote this story in my notebook in high school. Fun fact: It was originally a fanfic! Then, it collected dust for the longest time until I participated in NaNoWriMo in 2014. For some reason, maybe nostalgia, this storyline attracted me the most. So, I transformed this fanfic into a novel of my own. I created my own fantasy world with new and unique places and creatures.
Wow! That's so cool. I participate in NaNo too, though I've never tried to transform a fanfic into an original story. That must have taken a lot of work.
As a writer, I know that we are often attached to a particular character in a story. Who is your favorite character in The Aeonians, and why?
To be completely honest, I wrote the protagonist, Isabel, primarily after myself. She had low self-esteem and was constantly living in the shadows of other, more successful people. Other than the obvious storyline, she works to improve her confidence, as I have done in real life. However, there is a twist! The more I worked on the novel, the more I favored the antagonist, Bence. While known as a "cruel" character, he actually has a snarky sense of humor and tends to reflect on his decisions. He does not follow orders mindlessly like his twin, Farid. He became my favorite because he was a "bad guy" that I actually rooted for, and that's a rare feat.
Neat! I don't often root for bad guys, either. I'm looking forward to meeting Bence and all the other characters.
Speaking of meeting your characters… If you could spend a day in the world of your story, where would you go and what would you do?
Hands down, I would travel to Pekas Bay. This is the southernmost city in Deran. It has a tropical vibe, but that isn't the main reason. The Kai, playful "rabbit-like" sea creatures, live there. Princess Isabel would often vacation at Pekas, and the Kai would let her grab onto their ears and take her for a ride out to the open ocean. I would LOVE that. Spending all day in the water? Sign me up!
Oooooh, that sounds amazing! Sign me up, too!
My next question is regarding Isabel Deran, the main character. She wields a sai. That's an unusual weapon choice–what inspired you to choose that particular weapon?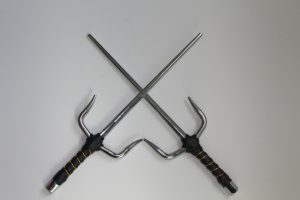 I chose it for two reasons. First, I purposefully wanted to go less traditional. There will always be the faithful sword, bow, axe, staff, etc. Second, I took martial arts growing up. While I focused more on hand-to-hand combat, the weapon of choice for me was the sai.
That's awesome! I love the idea of going less traditional (though I do have a soft spot for swords and staffs, my own weapons of choice).
Now that The Aeonians has been published, what is your next stop on your writing journey?
The Aeonians was originally meant to be a standalone novel. However, it was because of my love for one of the characters that I decided to extend this into a trilogy. Book two, tentatively named The Shadow Warrior, has already been drafted. I anticipate this to arrive in Fall 2018. While I finish the series, my next stop will either be a novel based off my short story The Fate of Patient Zero published in the anthology Between Heroes and Villains OR an urban fantasy/thriller. I am very indecisive! Thank goodness I still have time.
Sounds like you're going to be busy! I'd love to read a novel based on Patient Zero; that was a great short story.
Thank you again for being here today, J.E. I wish you the best with your writing and I'm looking forward to reading The Aeonians!
Heather, thank you again for your time. It was fun to answer your questions, and I hope everyone liked the interview.
The Aeonians can be found on Amazon or Silver Leaf Books's website.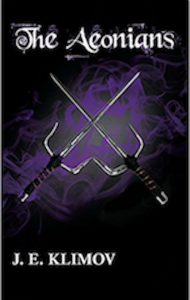 Isabel Deran only wants to practice archery with the castle guards, and that is the last thing expected from an elegant Princess. Living in the shadow of her late sister, Victoria, she is next in line to receive the royal armlet that is embedded with four stones: an opal, a sapphire, an amber, and a ruby. It is a revered family heirloom with the power of the elements passed down from mother to daughter.
However, an evil, once thought to be sealed away in a prison in which time does not pass, breaks free with an army that swarms the castle and wrecks havoc over the kingdom in search for the magical armlet. They are known as the Aeonians. When they kidnap Isabel and place their hands on it, the precious stones vanish.
Isabel is now trapped in a race against time to locate her stones of power with the head of the Aeonian army, Bence Brechenhad, stalking her like a shadow. With the help of her trusty weapon, the sai, she fights her way through seemingly impossible trials and fearsome monsters in order to restore peace in her kingdom.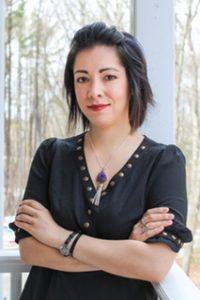 J. E. Klimov grew up in a small suburb in Massachusetts. After graduating from Massachusetts College of Pharmacy and Health Sciences, she obtained her PharmD and became a pharmacist; however, her true passion was writing and illustration.
Ever since J. E. Klimov was little, she dreamed of sharing her stories with the world. From scribbling plotlines instead of taking notes in school, to bringing her characters to life through sketches, J. E. Klimov's ideas ranged from fantasy to thriller fiction. Her first publication was a short story, The Guardian's Secret, in From the Stories of Old, an anthology of fairy tale retellings. The Aeonians is her debut novel with Silver Leaf Books.
You can follow J.E. Klimov and stay in tune for news on her sequel among other things on her blog, Twitter, and Facebook.