As Halloween and the siren call of NaNoWriMo fast approaches, it's time for a final look back at the goals I set for this spookiest of all months.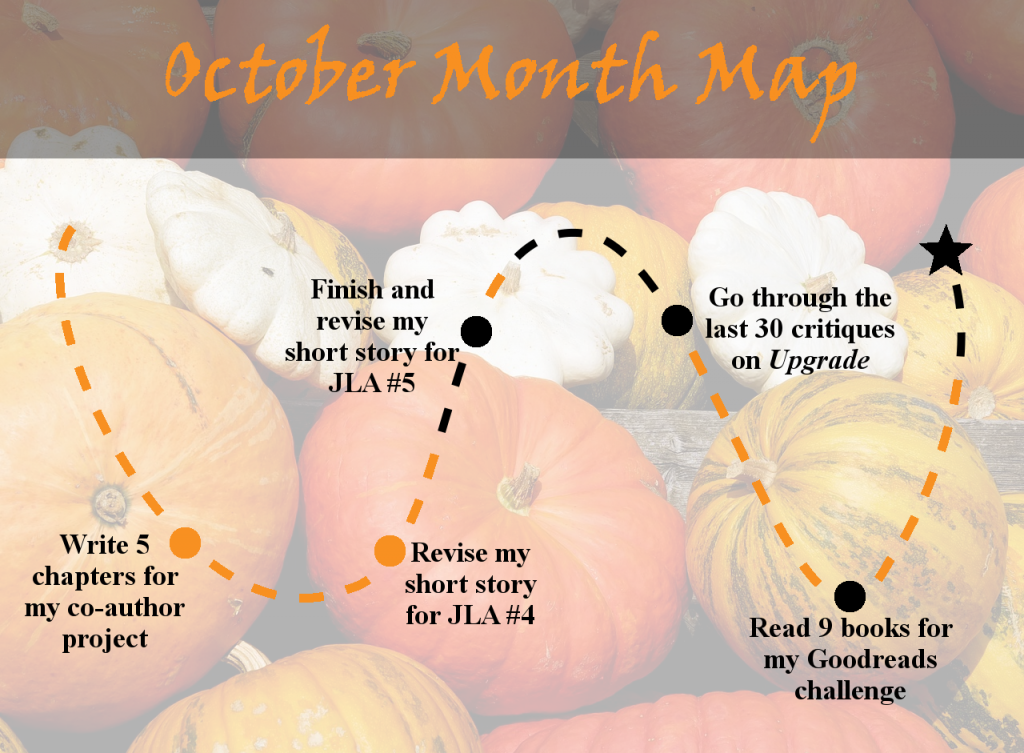 Cooperative Writing Project – COMPLETED GOAL!
I'm working with Kristy Perkins on an amazing fantasy project involving magic and dragons. Although we started out slow this month, we've since crushed our timeline goals and are several chapters ahead! I wrote six chapters total this month, beating my scheduled goal of five. In total, we have six chapters left, which means I'll need to write three next month to complete our first draft. I can't believe how fast the story has flown by; Kristy's wordsmithing abilities and writing speed are amazing.
JLA #4 – COMPLETED GOAL!
Solstice Flames, a mash-up retelling of A Christmas Carol and The Little Match Girl
I revised this multiple times this month and now it's off to the judges. I'm a bit nervous, but hopeful that they'll enjoy it!
JLA #5 – PROGRESS MADE!
I finished the first draft early in the month but did not have time to revise it. November will be a busy month!
Upgrade – PROGRESS MADE!
I edited one chapter this month, leaving me three to go. Not as great progress as I had hoped, but given that this month turned out to be quite the busy one, I'm not too worried.
Goodreads Challenge – PROGRESS MADE!
I needed to read nine books for my challenge. I read eight, which is pretty good, all things considered! 19 books to go and two months…can I make it? I'll definitely try my best! My favorite read of the month was The Beast of Talesend–if you enjoy fairy tales, check it out! Halayda was also quite good.
What else have I been up to?
A lot of driving–Cape Cod to Brooklyn, then Brooklyn to Maine. The Brooklyn part was the scariest.
Helped repair a wall. A lot of fun, actually! I forgot how much I enjoyed carpentry work.
Discovered a simple chocolate pudding recipe. I may or may not have eaten the majority of two batches in three days. I also learned that vanilla almond milk works in a pinch, but real milk and heavy cream is WAY better.
And most recently, helped my sister assemble her Tinkerbell costume the night before she needed it to attend several parties. Hurray for relearning how to make buttonholes!
How did your plans for October work out?