Magic Monday is back, and this month's featured book is not released yet! I did a cover reveal a while back, however, and managed to get my hands on an Advanced Readers Copy, which I devoured in one sitting.
Since the book is releasing on the 15th and I'm interviewing the author tomorrow, I thought today–the second Monday of the month, which is Magic Monday book review day–would be a good day to share my review of Coiled by H. L. Burke.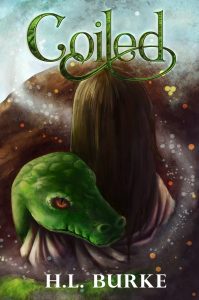 Here's the blurb:
A healing touch. A hideous face. A looming curse.
As the ugly twin to a perfect sister, Princess Laidra lives her life in the shadows—until her parents offer her as bait for a giant serpent.
Her escape attempt leaves her shipwrecked on a secluded island with only one inhabitant: Prince Calen, who lives under a curse. If anyone looks upon him, he turns into a giant serpent. Speaking to him in the darkness, Laidra sees past the monster to Calen's lonely soul, and she determines to free him from the magic's hold.
But if Laidra can't break the curse in time, Calen will become a mindless creature of scales and fangs forever.
A YA mythology/romance that retells the myth of Eros and Psyche with adventure, magic, and true love.
Here's a tip: if you want to sucker me into reading a romance story, make it a retelling of a myth…
Anyway, on to my review! I should note in advance that I've been a fan of Burke's work for a while now, but I did wonder if Coiled would be my cup of tea, given that it's clearly a lot more of a romance than her other work.
I shouldn't have worried. This book is a retelling of Eros and Psyche wrapped in coils upon coils of Burke's own special touches.
I loved watching Laidra's and Calen's relationship develop and was rooting for them from the start–and rooting for their tormentors to get their just desserts. Though I would have liked a little more at the end with them and their families, ultimately this story is about two hurt souls finding a way to heal together, and in that respect, Coiled is as shiny as the scales on a freshly bathed snake.
I highly recommend this to readers who love retellings of myths, romance, and snakes. Even if you don't like snakes, give Calen a chance–he's a big softy at heart, I swear.
Coiled is currently available for preorder and will be hitting the shelves on June 15th. I can't wait to get my copy–I actually ordered an autographed paperback, because I really want that cover in print.
Oh, and please stop by tomorrow for an interview with H. L. Burke!