Once a month I post a book review for a fantasy novel that I've read in the recent past. These reviews are posted on "Magic Monday", the second Monday of every month.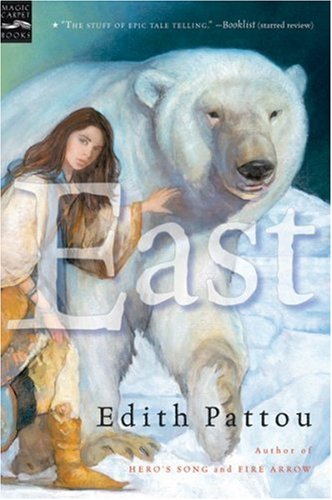 Today I'm reviewing East by Edith Pattou, a fantasy novel based on the folk tale East of the Wind, West of the Moon.
I've read East before. More than once, in fact. But last time I visited my parents' house, my eyes fell on its wrinkled spine again, and I snagged the paperback off my shelf and added it to the pile of books I was bringing along.
I finished it a couple days ago, almost in one sitting, and once again it reminded me of why I love reading so much. Sometimes there are books that resonate with you even after you've finished them, and this is definitely one of those for me.
East tells the story of Rose, the eighth child of a poor farmer's family. Since her birth, she has always been adventurous, despite her mother's constant attempts to keep her close to home. When her family's home and livelihood, and the life of her sister, is threatened, Rose finds herself facing the adventure of a lifetime. That is, if she accepts the white bear's offer and goes with him, leaving her home behind.
As the story progresses, Rose finds herself facing many trials–ice and cold being the least among them. When she seeks to discover the identity of the mysterious stranger who shares her bed each night, Rose starts down a path toward what could be her destiny…or could be her doom.
East is told from several viewpoints–Rose being but one of them. Her brother, Neddy, her father, the white bear, and the troll queen, all share in the telling of the story, and through their different viewpoints is woven a narrative that pulls me in every time. Everyone has their own voice, their own wants and needs, and I can sympathize with everyone, even the troll queen and Rose's over-protective (and incredibly superstitious) mother.
Rose is definitely the heroine of the tale, however, and she proves this again and again throughout the book. Her strength keeps her going no matter how hopeless the situation is, and her story keeps me turning the pages right up to the very end.
Intrigued? East is available on Amazon. You can also learn more about Edith Pattou and her stories through her website.
Thoughts? Comments? Let me know below!