Once a month I post a book review for a fantasy novel that I've read in the recent past. These reviews are posted on "Magic Monday", the second Monday of every month.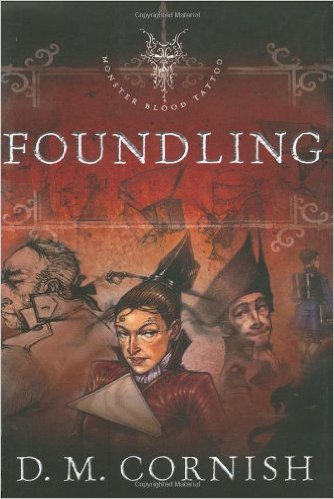 Today I'm reviewing Foundling by D. M. Cornish, a fantasy novel set in the Dickensian world of Half-Continent, where alchemy, arcane science, and deadly monsters run rampant.
Foundling follows the adventures of Rossamünd, a young orphan (or foundling) with an unfortunate name. Abandoned as a baby on the steps of an orphanage, Rossamünd grew up hearing tales of sailors (known as vinegaroons) braving pirates, monsters, and other dangers on the caustic seas that border Half-Continent. Rossamünd dreams of having his own adventures at sea, and is disappointed when he is selected to join the lamplighters–an important but in his mind far less exciting a trade than sailing the high seas.
Rossamünd soon gets more adventure than he bargained for, though, as a series of events sends him tumbling down a path that leads him from the belly of a smugglers' ship to the carriage of a famous fulgar (a person whose body has been modified to generate electricity), facing dangers–human and monster alike–along the way.
The story is compelling, the descriptions sublime (if somewhat long-winded at times), and the world is imaginative and unique. Rossamünd is a kind and sympathetic main character I spent the entire novel crying with and cheering for. All the characters leapt off the pages: Europe with her calm poise and flashy temper, Fouracres and his sympathetic nature toward monsters, the various nefarious creatures (smugglers, grinnlings, etc) who caused difficulties along Rossamünd's journey.
Rich with imagery, plot, and, most importantly, story, Foundling is a perfect read for a rainy afternoon when you just want to curl up with a good book and a mug of tea (or other appropriate beverage.)
Intrigued? Foundling is available on Amazon. You can also learn more about the Monster Blood Tattoo Trilogy and D. M. Cornish on the series's website.
Thoughts? Comments? Let me know below!