Once a month I post a book review for a fantasy novel that I've read in the recent past. These reviews are posted on "Magic Monday", the second Monday of every month.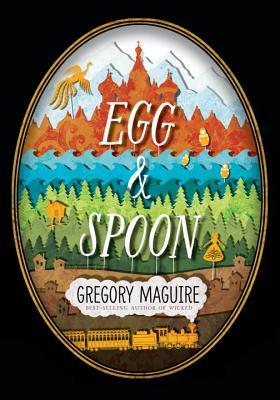 Today I'm reviewing Egg and Spoon by Gregory Maguire, a fantasy novel that caught my eye when I saw my sister reading it… Resulting in a book war that lasted until she finished it and I could finally get my hands on it again!
In other words, it was quite the good read. My only regret is not having the time to sit down and read it straight through (it ended up taking me about a week to read, because I was busy running around spending time with people.)
Egg and Spoon is a fantasy novel set in Russia, and is full of references to Russian legends–most importantly, I think, Baba Yaga. Here's the blurb from Amazon:
Elena Rudina lives in the impoverished Russian countryside. Her father has been dead for years. One of her brothers has been conscripted into the Tsar's army, the other taken as a servant in the house of the local landowner. Her mother is dying, slowly, in their tiny cabin. And there is no food. But then a train arrives in the village, a train carrying untold wealth, a cornucopia of food, and a noble family destined to visit the Tsar in Saint Petersburg — a family that includes Ekaterina, a girl of Elena's age. When the two girls' lives collide, an adventure is set in motion, an escapade that includes mistaken identity, a monk locked in a tower, a prince traveling incognito, and — in a starring role only Gregory Maguire could have conjured — Baba Yaga, witch of Russian folklore, in her ambulatory house perched on chicken legs.
I'll admit, the cover is quite eye-catching and part of the reason I picked it up initially from the kitchen table (eliciting a shout from my sister that it was her library book and she was still reading it.) The blurb snagged my attention–I love stories about Baba Yaga, especially when they involve young heroines out to save the world.
In this case, Elena and Cat (Ekaterina) are two very unlikely heroes–one a poor peasant barely scraping by on crusts of bread, the other a privileged rich girl on the way to meet the Tsar's godson and (as her aunt hopes, at least) win his heart.
The story is told from the point of view of a monk, trapped in a tower, who can see things through his blind eye by using the vision of birds. Although it sounds like an odd way of telling the story, and does make me wonder at times how he can know what the other characters' thoughts are, it's an interesting way of framing the narrative, and doesn't distract from the overall story.
Elena and Cat find their lives forever changed when an accident causes them to switch places. Both must be brave, and strong, and unyielding in their desires as they fight for what they want–Elena wishes to beg the Tsar to release her brother from his service, and Cat wishes nothing more to find her way home.
As she trudges along, though, Cat stumbles upon a very unexpected house… One with chicken legs, and an ancient occupant who threats to eat her. However, Baba Yaga has greater problems than how to deal with a child–especially one she cannot, in fact, eat, since Cat brought her a gift (however unintentionally)–for Russian's weather is changing, and not in a good way.
The Pheonix, a beautiful, fiery bird that can grant a child a wish if the child steals one of his tail feathers, has died…but he has not yet been reborn. And this break in the cycle is causing many, many troubles, from the flooding of Saint Petersburg to the waking of another ancient creature, far to the North…
Through this story I was enchanted by the landscape, the characters, and their individual tales all woven into a great tapestry of life, wonder, and hope. There's no romance to be found here, only friendship and courage and determination. And more than a little dash of magic, that at the same time manages to melt into the landscape, becoming one with a Russia that is part reality and part myth.
I definitely think lovers of Russian fairy tales will enjoy this story, as well as anyone who enjoys a good fantasy with strong, proactive characters (not to mention the female leads, and especially the lead role of Baba Yaga, who is as impressive and frightening as you can imagine…and yet carries her own sort of frailty.)
Intrigued? Egg and Spoon is available on Amazon. You can also learn more about Gregory Maguire and his stories on his website.
Thoughts? Comments? Let me know below!