Normally the books I highlight in my Magic Monday series are novels, but today I'm highlighting a graphic novel by the talented Katie O'Neill!
Here's the cover: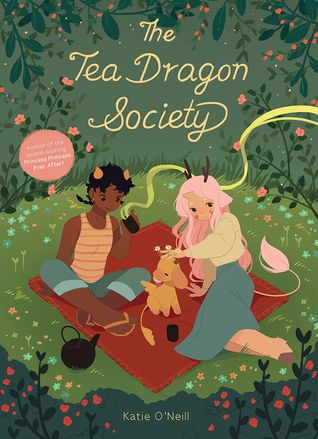 Isn't it gorgeous? I love the soft colors and artwork of this story (the entire novel is in full color, by the way).
Here is the blurb:
The Tea Dragon Society follows the story of Greta, a blacksmith apprentice, and the people she meets as she becomes entwined in the enchanting world of tea dragons. After discovering a lost tea dragon in the marketplace, Greta learns about the dying art form of tea dragon care-taking from the kind tea shop owners, Hesekiel and Erik. As she befriends them and their shy ward, Minette, Greta sees how the craft enriches their lives—and eventually her own.
It's a short read, easily finished in the space of an afternoon (even if you linger over the beautiful illustrations like I did). I loved all of the characters–Greta is passionate about keeping the skills of blacksmithing alive under the tutelage of her mother, and she also has a kind heart. When she stumbles upon two dogs cornering a small tea dragon, she realizes how hungry they are and offers them the bacon she had been sent to the market. From that moment, I was captivated by this lovely little world and the charming characters who fill the story's pages.
Picking a favorite character would be difficult, if not impossible. From wise Hesekiel to shy Minette, each brings their own outlook to the story. The tea dragons are lovely creatures, and the tea they grow has some very special properties.
You can find The Tea Dragon Society on Amazon or read it online (it originated as a webcomic.)