In celebration of the upcoming release of A Bit of Magic, I've invited the amazing B. C. Marine to my blog for an author interview!
Thank you so much for being here today, B. C.
Which fairy tale did you choose to retell, and what inspired that choice?
I'm retelling "King Thrushbeard". At its heart, the original story is about learning humility and kindness, but it hasn't aged well. It's not hard to find modern reviews that condemn it as sexist and vilify the king for sabotaging the princess. So I decided to write my version with the genders reversed and a kinder monarch leading the lesson.
That was a good choice–I absolutely loved your retelling, and I'm sure our readers will as well.
Do you prefer a happy ending, and did that affect how you wrote your story?
As a romance writer, when I look for a fairy tale to adapt, I purposely look for ones that either have a happy ending or could easily be changed to a happy ending without ruining the message.
That makes a lot of sense! I prefer happier endings as well.
How did this retelling differ from retellings you've written in the past?
This is my first gender-swapped retelling. It also required more research than both of my previous stories combined. Most of "The Veiled Queen" takes place on a fishing vessel, and I've never fished in my life. (I don't even eat seafood!) Thankfully, I had a former commercial fisherman on hand to fact-check for me. (Thanks, Dad!)
It's always great when you have family (or friends) to call upon in times of research! I also think this is a great place to slip in the promo image for your story: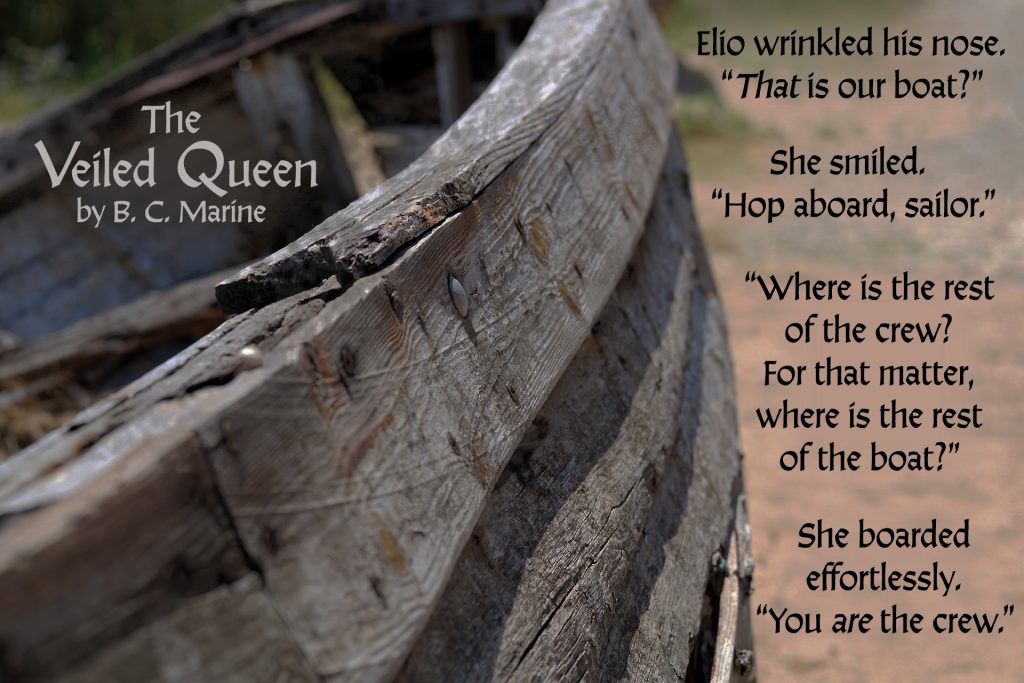 Just looking at this image is making me want to read it again! But before I go off and do that, we have an interview to finish.
If you had to live in a fairy tale as one of the characters, which fairy tale would it be, who would you be, and why?
Gerda from "The Snow Queen" gets to go on an amazing adventure and save her friend. Who wouldn't want to do that? And she still gets to have loving parents and a happy childhood, so I wouldn't have to go through the years of misery, which is how so many fairy tales start.
That's a good choice. I love "The Snow Queen"!
What projects are you working on now?
I'm working on a romantic fantasy novel to release this year called A Seer's Daughter, and its companion short titled "I Loved You Tomorrow" is in its final stages.
Awesome! I look forward to reading more of your stories.
Thank you so much for being here today, B. C., and best of luck with your upcoming publications!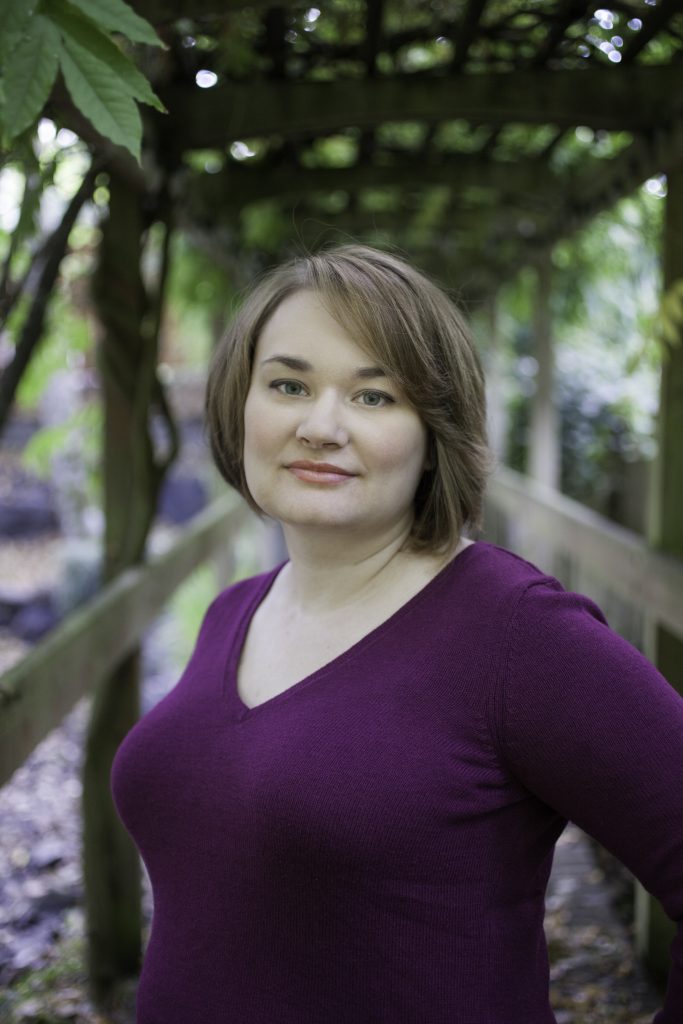 B. C. Marine's superpowered romantic fantasy is heavily influenced by the beautiful Pacific Northwest, where she lives with her husband and two sons. Hairdresser by day and full-time mother all the time, she sometimes has to negotiate with her family to get time to write, and the scenic views of Western Washington provide plenty of inspiration for her settings. She loves knitting and spends far too much time researching for her stories.
Her retelling of "King Thrushbeard," titled "The Veiled Queen," can be found in A Bit of Magic, releasing on the 31st of this month. Look for her other retellings in From the Stories of Old and Of Legend and Lore as well as her debut novel A Seer's Daughter, to be released in 2018. You can follow her through her website or on Twitter.
A Bit of Magic Blog Tour Schedule
Melion Traverse hosts Mae Baum — 18th May
Heather Hayden hosts B.C. Marine — 21st May
Allie May hosts Rebecca Mikkelson — 24th May
M.T. Wilson hosts Lynden Wade — 27th May
Authors4Authors hosts Kelsie Engen — 30th May
**RELEASE DAY — 31st MAY**
Louise Ross hosts Heather Hayden — 1st June
Authors4Authors hosts Katelyn Barbee — 6th June
Mae Baum hosts Allie May — 9th June
Elise Edmonds hosts Louise Ross — 12th June