Release Day is here!
I'm so very happy to announce that my writers' group, the Just-Us League, has published our fifth anthology!
A Bit of Magic is our third collection of fairy tale retellings, and it is now available for purchase on Amazon (or free through Kindle Unlimited). It contains eleven fantastic stories, each accompanied by its own full-page, black-and-white illustration.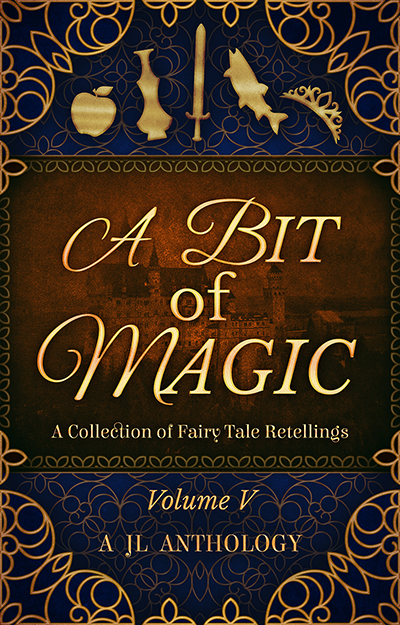 The oldest story can be made new again, changed and altered until it is reimagined and restored.
Pride interferes with happily-ever-afters: a proud princess is tested and tests the prince in return; a young thief is caught red-handed and must make amends; and a vain queen struggles to save her stepdaughter.
Finding love is not a simple task: a hero searches for the ideal magical bride; an innocent librarian is charmed by a man with a menacing secret; a queen takes a spoiled prince as her sole deckhand; and a well-intentioned princess seeks to make things right with her father.
Change causes chaos, for better or worse: a scheming cat seeks to better the lot of his daydreaming master; a cursed pirate captain is given a second chance when he finds a young stowaway; a spoiled teenager suffers the consequences of turning her best friend into a toad; and a thief and a rebel hiding secrets meet at a ball.
Follow these characters on their journeys as eleven magical tales are turned on their heads and seen from new perspectives.
Grab your copy now!
Want to learn more about the talented authors behind the anthology? Check out our blog tour:

Melion Traverse hosts Mae Baum — 18th May
Heather Hayden hosts B.C. Marine — 21st May
Allie May hosts Rebecca Mikkelson — 24th May
M.T. Wilson hosts Lynden Wade — 27th May
Authors4Authors hosts Kelsie Engen — 30th May
**RELEASE DAY — 31st MAY**
Louise Ross hosts Heather Hayden — 1st June
Authors4Authors hosts Katelyn Barbee — 6th June
Mae Baum hosts Allie May — 9th June
Elise Edmonds hosts Louise Ross — 12th June