This post is part of a blog tour featuring Elise Edmonds and her recently published YA fantasy novel Where Carpets Fly. Join me for an interview and learn more about this amazing author and her captivating book!
First, a bit about the novel itself: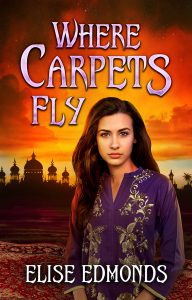 Elina Faramar finally leaves her family's flying carpet shop when her father reluctantly agrees she can take magic lessons in nearby Kamikan. Urban life promises adventure, and new friend Kara shows her the sights.
However, Elina soon sees a darker side of life: a foreigner arrested at the circus, forbidden schoolhouse rooms with odd comings and goings, and unsociable pupil Simeon's shady deals at the docks. Everything seems connected to the volatile neighbouring country of Pallexon, but no one will tell her why.
When Elina and Simeon develop a magical mind link, he seems close to confiding in her. But an unexpected voyage takes Elina and Kara away from answers and towards unknown danger in Pallexon
Alone in a strange country, with no identity papers, the situation rapidly turns into a nightmare when Kara is mistaken for a spy. With her own freedom at stake, Elina must rely on her wits and magic to save her friend and unravel the secrets of Pallexon.
Let me just say that I love this book! Elina's story is a magical adventure that sweeps you away just like a magic carpet would. When Elise started planning her blog tour, I jumped at the chance to interview her.
Thanks for being here today, Elise! I'd like to start off the interview with a very important question: Where did your inspiration for Where Carpets Fly come from?
I've always been a fan of both children's fantasy books and school stories – long before Harry Potter came into the world. I grew up on Enid Blyton and Narnia. So writing a fun, immersive fantasy story full of adventure but also including school and coming of age themes is basically me writing the book I wanted to read as a kid! It's got a bit of everything I enjoy reading about.
Flying carpets have always held a fascination for me. There's something exciting and exotic about them, and I wanted to capture that feeling in my world. I read a Diana Wynne Jones book about flying carpets (Castle in the Air – the sequel to Howl's Moving Castle), and I can say she's also influenced my writing.
I would love to have a flying carpet–in fact, Carpet from Aladdin was one of my favorite characters from that movie. If you could have one, what kind would you want to have, and why?
Well, as you know, I'm from the UK, and I live on the coast, so I think I'd need a built in umbrella and a windshield, as well as a waterproof coating. Most of my traveling is commuting, so I think I'd have a sturdy, speedy model built for one, to allow me to beat the morning traffic.
You put a lot of thought into that! Given that I'm from the northeastern US, I'd probably need a similar model, plus some sort of heating spell for cold days.
Return to Where Carpets Fly, could you tell us a bit about your main character?
Elina is an only child, living with her parents in the apartment above the family flying carpet shop. She's constantly butting heads with her father because he wants her to take over the family business, but she's got no interest in this at all. She finally persuades him to let her take magic lesson in the nearby town, and she intends to enjoy herself while she can! She's keen to make new friends, and she'd love to travel. Her world view is quite naive and this gets challenged during the book, but she proves to be a loyal friend to the end.
I loved watching Elina grow over the course of the novel. You did an amazing job–it makes me want to read more of your work! Which brings me to my next question: What other stories are you working on? Anything in the same world as Where Carpets Fly?
Yes, I'm currently working on the sequel!  I wanted to keep going with Elina's story and explore what happens next. And this time, you get to be inside the heads of a couple of her friends as well. So I shall be excited to get that book out … maybe by the end of the year if things go to plan. Aside from that, I can be found on Wattpad, and I sometimes have a few chapters of a new idea up on there.
Hurray! There's going to be a sequel! I'll be first in line for a copy!
Before we wrap up this interview, is there anything else you'd like to share?
Yes – here are a couple of pictures of my cats. Their names are Anushka (the calico) and Rafferty (the black and white). They are just turned seven years old, and they are my writing buddies! Rafferty mostly likes playing outside and he's quite grumpy at the moment because of the cold weather. Anushka mostly likes eating. But she swears she fluffy, not fat! I post quite a few pics of them on my Instagram account, because who doesn't love cat pictures?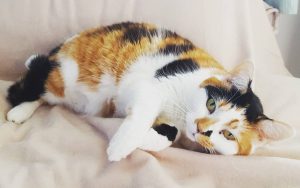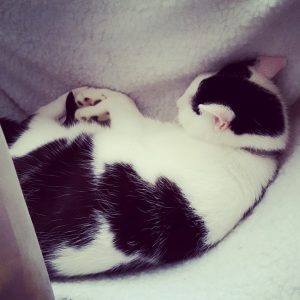 They're gorgeous cats! You're lucky to have such wonderful writing buddies.
Thank you for stopping by today, Elise! I wish you and your stories the best!
Readers, you can purchase a copy of Where Carpets Fly on Amazon as an ebook or a paperback!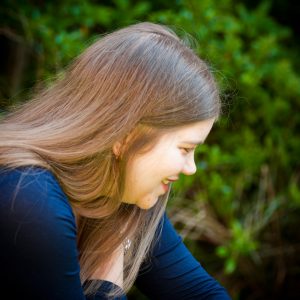 Born in Staffordshire in England, Elise Edmonds has always been an avid reader, especially of fantasy and young adult books. Elise moved to Bristol in her teens, to attend university, and undertook a career in the finance world.
Now living in a quiet South Gloucestershire village, she spends her free time with her husband and two cats, and enjoys attending local fitness classes, watching movies, and playing the piano. Pursuing writing in her spare time as a creative outlet is a way to bring the magic back into her everyday life.
You can connect with Elise through her various social media outlets: