I recently learned that today is National Fairy Tale Day. These days, it feels like pretty much every day is National Something Day, but there are a few I enjoy celebrating (Pi Day, anyone?) and National Fairy Tale Day just joined that list because I LOVE fairy tales!
In celebration of today, I'm sharing a few of my favorite fairy tales and retellings. I also have a exciting announcement at the end of the post!
Beauty and the Beast
I'll freely admit that one of the reasons this fairy tale ranks so high for me is because Belle, from the Disney version, loves reading books and was thus my favorite Disney "princess" as a kid.
Although I don't have a specific favorite retelling of this tale yet, I'm actually working on my own retelling. It's a slow process, but transforming a favorite fairy tale into my own story is so much fun!
East of the Wind, West of the Moon
I'm not usually one for romance, and I'll be the first to admit that the original tale leaves much to be desired. However, I love how the girl in this story seeks to right the wrong she committed despite all the dangers and trials she must face.
One of my favorite retellings of this story is East by Edith Pattou, which I've reviewed before on this blog.
Cinderella
There are parts I love about this fairy tale and parts I don't. I'm not a fan of the insta-love original, but I do love versions of the story where Cinderella stands up for herself rather than is simply rescued by a fairy godmother's magic. For this reason, Ella Enchanted by Gail Carson Levine is a favorite retelling of mine. A more sci-fi version, Cinder by Marissa Meyer, is another favorite.
The Selkie Myth
The selkie stories are not so much a single fairy tale as a collection of similar myths from Irish and Scottish origin. Male and female selkies are spoke of differently–male selkies are said to seduce human females, while a female selkie is taken captive by a fisherman who steals her skin. The tragic endings of their myths and the duality of them, as well as the concept of the selkies themselves, fascinate me and led to my writing "Beneath His Skin," which was included in the Just-Us League's recent release, From the Stories of Old.
One of my favorite retellings of this myth is Seal Child by Sylvia Peck. When I first read the story as a kid, I didn't know what selkies were. All I knew was that the story was one of the most bittersweet stories I'd read at the time, and the memory of it still remains ingrained in my memory. Only later, when I heard of the original selkie myths, did I make the connection.
These are just a few of my favorites–I love fairy tales in general and enjoy learning of new and obscure ones. Please share your favorites in the comments!
Now, before I sign off, it's time for an important announcement!
From the Stories of Old is FREE today until March 1st! Just click the link or the picture below and it will take you right to the Amazon page where you can snag your copy!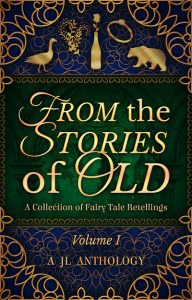 In this international collection, new life is given to fairy tales, both classic and obscure.
Mythical creatures put the fairy in Fairy Tale. Mermaids, selkies, and ocean guardians experience the best and worst of humanity; sisters encounter an unusually friendly bear; a brave bride meets a silly goose; and a spinner of gold sets the record straight.
Urban fantasies modernize classics: a Frenchman learns the truth about magic, his past, and his girlfriend; a girl sets out to find love but receives a curse; and today's naughty list makes Old Saint Nick not-so-jolly.
New worlds bring a fresh sense of wonder! In the future, a young woman fights for her people and herself; a bastard son finds acceptance in a world ruled by women; and a farmer's wits win the heart of a frosty king.
Discover unexpected twists on old favorites, and fall in love with new tales and worlds to explore!