Greetings!
Things have been quiet here lately, but I promise a lot has been going on behind the scenes! Granted, most of that has been work rather than writing, but I've snuck in time where I can to play with words. Stories are in my blood, and I'm always happiest when I've got virtual ink on my fingers.
Some of you may have been anticipating this announcement, but many of you may have forgotten my previous hints about a certain fairy tale retelling involving a certain frog. Well, I'm happy to announce that the wait is almost over for my latest fairy tale retelling.
Why almost, you ask? Because Fractured Ever After: A Collection of Fairy Tale Retellings releases next month on April 27th, and my story, "The Frog Prince," will be opening the anthology! *squeal of excitement*
Why am I here today, then? The title of the post kind of gives away the surprise… So, without further ado, here's the gorgeous cover by the talented Louis Rakovich of Indigo Forest Designs!
The Cover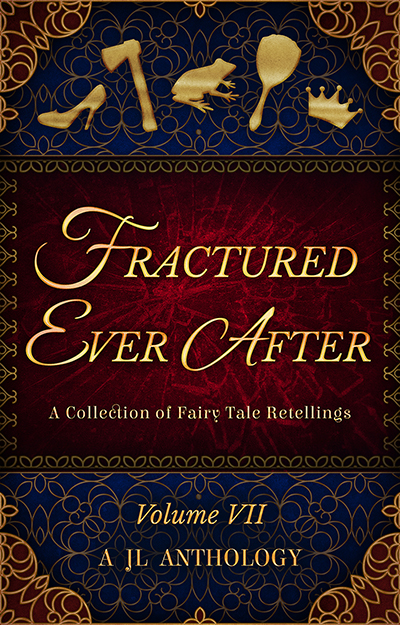 It's SO PRETTY. I always fangirl over Louis's cover designs, and I especially love how he worked in the shattered glass for this collection of fractured fairy tale retellings.
What is a Fractured Fairy Tale Retelling?
Fractured fairy tale retellings usually tell the original tale from another character's point-of-view–a secondary character or even the villain (such as an evil stepmother). Often the perspective of the original tale is skewed to show how things "really" happened, and the ending might even be completely different from that of the original. Sometimes the story has been changed in such a way as to make us laugh at an unexpected characterization, plot development, or contrary point of view. Fractured fairy tale retellings can also be continuations of fairy tales, showing what happens to a character after the original tale's end.
The Blurb
Old classics are fractured into exciting new tales in this international collection of magic, mystery, and adventure.
Some heroes go searching for their happily ever after: a dragon cocoon hunter explores the dangerous woods for his sleeping beauty; a prince forces a perfect romance on an unsuspecting maiden; and when a girl leaves town, she must quickly decide to trust—or be wary of—a new stranger.
Destiny is thrust upon others: a disconnected emperor struggles to retain his title; a frog prince leaves his pond in search of answers; and after Rapunzel is rescued, a new quest is awarded to her savior.
Whether it is destiny or choice, all actions have consequences: sibling rivalry pushes one little piggy to extremes and a princess must choose to follow her heart or step up as future queen.
Prepare for an adventure as these eight fantastic fairy tales transport you to places beyond your imagination.
When is it being released?!
As I mentioned above, the official release date is April 27th! However, you can preorder the Kindle version now: PREORDER.
More details to come soon!