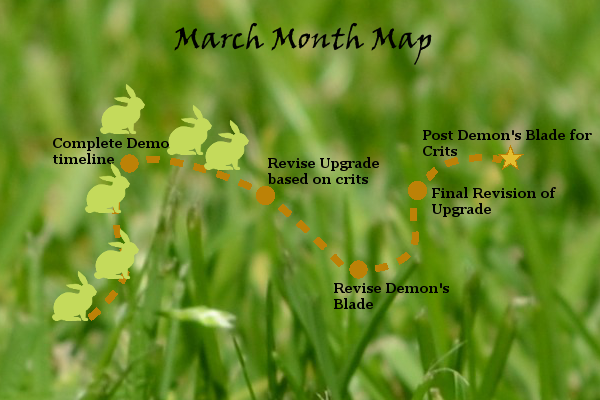 Well, as you can tell from the spread of bunnies, I didn't quite make it halfway through my month's goals. Still, I did far better this month than I did in February.
I'm not going to berate myself for not getting more done–you can drive yourself crazy with what ifs and there's no changing the past, so you've got to keep moving forward. (Yes, I decided halfway through that sentence to see how many cliches I could toss in.)
I did make some great progress in terms of critting other people's novels, including finding another novel that's quite a lot of fun to read–it reminds me a bit of Good Omens. Humorous, but with an undertone of seriousness.
I also managed to skip a chapter while critiquing a different novel, which has probably led the poor writer to some confusion as I go back to crit the previous chapter(s) (multiple now with revisions). Hopefully my comments won't be too difficult to sort out… I'm enjoying the story, and felt terrible for making such a mistake!
In other words, I've been procrastinating from editing Upgrade by critting other peoples' novels. At least I'm getting something done, right?
For April, I have a lot of things planned: Camp NaNoWriMo, editing Upgrade, working on the Demons trilogy. I'm also going to be in Ireland for a good portion of the month, so will have the added distractions of family and fun and general emerald isle gorgeousness. But I also think it will be a great source of inspiration for my muse.
Expect an April Month Map tomorrow… I haven't assembled it yet as I've been enjoying my last week in Brooklyn, including going to the Botanical Gardens yesterday–it was so beautiful! I wish I'd had a camera to take pictures of the cherry trees, the magnolias, the koi… I love springtime, and it's already passing by fast–a couple of months and summer will be here, with heat and bugs…and beach!
And, of course, more writing!