It's National Poetry Writing Month! And in celebration of that, today I have a guest, poet Lidy Wilks. So happy to have you here!
I dabble in poetry at times, but Lidy sees it everywhere, and writes it down. This post is part of her blog tour promoting her new poetry chapbook, Can You Catch My Flow?, which encompasses the thoughts, emotions, and experiences of growing up in a series of poetic snapshots.
Here's a poem by Lidy, followed by her guest post. Enjoy, and look for some poetry in your life today.
---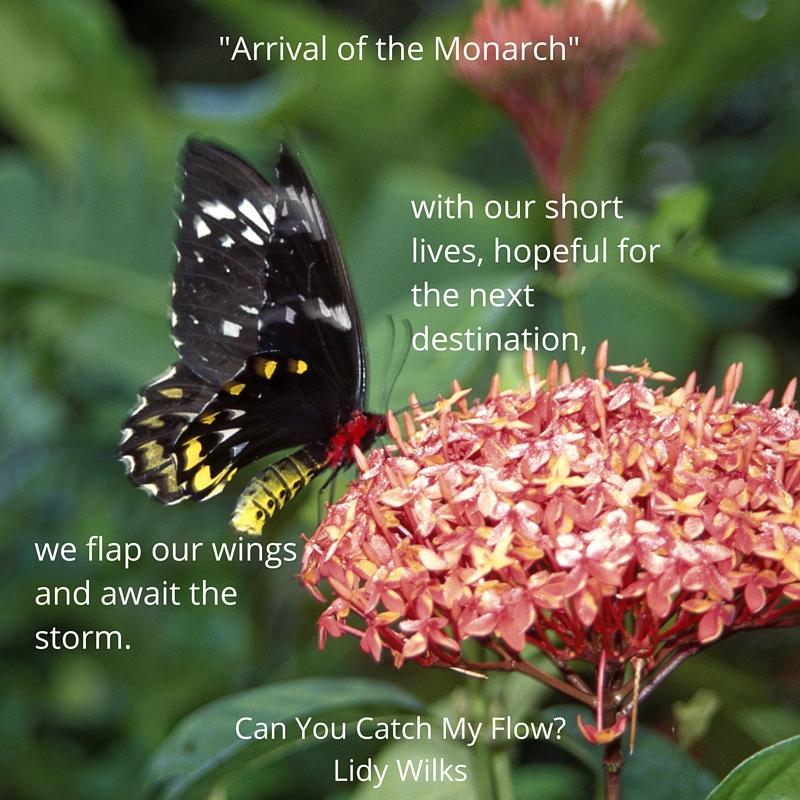 Poetry is Everywhere
Did you know that poetry is everywhere? All you have to do is listen closely. It doesn't matter if you've never read poetry or listened to a poetry reading before. Or that you find poetry boring and archaic. Because you've been listening to one form of poetry anyways.
Believe it not, you're listening to a poem whenever you turn on the radio. Or playing your music playlist on iTunes, your iPod, Pandora, Slacker, Spotify, etc.
Poetry is an art that predates literacy. And told in oral form as a way to retell history, tell stories, talk about politics, reflect on life and death.  Music is just lyrical poems that does the same. They entertain us with stories of love. Talk about loss and self-reflection. They address socio-political concerns too. And all to a beat that gets your body moving.
If you still don't believe me then here are a few lyrics I've gathered. All from songs that's played over the airwaves and music streaming services:
Hello, can you hear me
I'm in California dreaming about who we used to be
When we were younger and free
I've forgotten how it felt before the world fell at our feet
-"Hello", Adele
Reasons, the reasons that we hear
The reasons that we fear
Our feelings a won't disappear, ooh
And after the love game has been played
All our illusions were just a parade
And all the reasons start to fade
-"Reasons, Earth, Wind and Fire", RIP Maurice White
And since we all came from a woman
Got our name from a woman and our game from a woman
I wonder why we take from our women
Why we rape our women, do we hate our women?
I think it's time to kill for our women
Time to heal our women, be real to our women
And if we don't we'll have a race of babies
That will hate the ladies, that make the babies
And since a man can't make one
He has no right to tell a woman when and where to create one
-"Keep Ya Head Up", RIP Tupac Shakur
I'm holding on your rope, got me ten feet off the ground
And I'm hearing what you say, but I just can't make a sound
-"Apologize", OneRepublic
I raise my flag and dye my clothes
It's a revolution, I suppose
We're painted red to fit right in
-"Radioactive", Imagine Dragons
This is Ground Control
to Major Tom
You've really made the grade
And the papers want to know whose shirts you wear
Now it's time to leave the capsule
if you dare
-"Space Oddity", RIP David Bowie
Fear not when, fear not why,
Fear not much while were alive,
Life is for living not living up tight,
See ya somewhere up in the sky,
Fear not die, I'll be alive for a million years, bye bye,
So not for legends, I'm forever young
-"Forever Young", Jay Z
So no matter what you been through
no matter what you into
no matter what you see when you look outside your window
brown grass or green grass
picket fence or barbed wire
Never ever put them down
you just lift your arms higher
raise em till' your arms tired
Let em' know you're there
That you struggling and survivin' that you gonna persevere
Yeah, ain't no body leavin, no body goin' home
even if they turn the lights out the show is goin' on!
-"The Show Goes On", Lupe Fiasco
Why am I so emotional?
No, it's not a good look, gain some self-control
And deep down I know this never works
But you can lay with me so it doesn't hurt
-"Stay With Me", Sam Smith
But tell me, did you sail across the sun?
Did you make it to the Milky Way to see the lights all faded
And that heaven is overrated?
Tell me, did you fall for a shooting star–
One without a permanent scar?
And did you miss me while you were looking for yourself out there?
-"Drops of Jupiter", Train
A summer disregard, a broken bottle top
And a one man soul
They follow each other on the wind ya' know
'Cause they got nowhere to go
That's why I want you to know
I'm starting with the man in the mirror
I'm asking him to change his ways
And no message could have been any clearer
If you want to make the world a better place
Take a look at yourself, and then make a change
-"Man in the Mirror", RIP Michael Jackson
We're like a flower to a tree
Like words to a melody of love
There's no way we could break up
No words that could make us blow our thing
We are just~
Inseparable
-"Inseparable", RIP Natalie Cole
Infecting the young minds faster than bacteria
Kids want to act like what they see in the cinema
Yo', whatever happened to the values of humanity
Whatever happened to the fairness in equality
Instead in spreading love we're spreading animosity
-"Where is the Love?", The Black Eyed Peas
So what poems are you rocking and bopping your head to?
---
Poetry is everywhere. I certain enjoy it in music (Imagine Dragons is one of my favorite bands, and Lidy referenced of my favorite songs by them!), and it's around us in everyday life too–sunlight on a field, mist on the water, the feeling you get when someone you love smiles.
Where do you experience poetry in your life?
---
About Lidy Wilks
Ever since she was young, Lidy Wilks was often found completely submerged in the worlds of Dickens, Louisa May Alcott, Sweet Valley High and Nancy Drew. She later went on to earn a Bachelor degree in English with a concentration in Creative Writing, from Franklin Pierce University. Where she spent the next four years knee deep in fiction, poetry and creative non-fiction workshops.
Lidy is the author of Can You Catch My Flow? a poetry chapbook and is a member of Write by the Rails. She currently resides in Virginia with her husband and two children. And an anime, book and manga library, she's looking to expand, one day adding an Asian drama DVD collection. Lidy continues her pursuit in writing more poetry collections and fantasy novels. All the while eating milk chocolate and sipping a glass of Cabernet. Or Riesling wine.
Find out more about Lidy through her social media sites: Facebook | Twitter | Instagram | Blog

Lidy's Novel…and Rafflecopter Giveaway!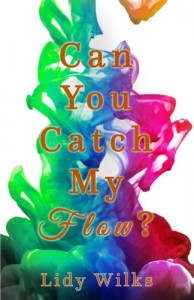 We wake and sleep every day. Growing up, as we must. In Can You Catch My Flow? The everyday ordinary events of the human condition are captured in poetic snapshots. No matter the walks of life, the reader is sure to find themselves within the lines.
Can You Catch My Flow? is a small collection of poetry. It's a portrayal of thoughts, emotions and experiences when growing up. A rite of passage and nature of the human condition.
Lidy is offering a Rafflecopter giveaway in promotion of her new chapbook. Enter to win a $10 Walmart gift card, a $25 Starbucks gift card, a LG wireless stereo headset, and a wireless stereo Philips shoqbox mini!