A few things to talk about today, all related to my writing.
2016 started out very strong in January–I made a lot of progress with Upgrade. February had its moments, although the ultimate result was less than impressive. March made a good comeback, though more in terms of other things like critting than in progress on my own writing.
April, though?
I'm spending the majority of the month in Ireland. I have no idea how good the internet access is going to be, which means doing work is going to be difficult–my job allows me to travel, which is great, but jobs are intermittent and I can't pick up a rush order if I'm not sure whether the internet's going to crash suddenly and be out for the night.
I'm also not sure how much time I'm going to have to do my own things… My grandfather takes my sister around to meet new people and see new places every weekend she's home from college, and I'll be staying with him, so I might be going out a lot. Which is awesome–I love exploring Ireland and meeting family members, and I haven't been over there since I was 12.
Regardless, I still want to have a plan for April, and I'll do my best to keep up with it. A few highlights planned for this month:
National Poetry Writing Month: I shared my first poem earlier this month, and plan on sharing more, if not daily, then several times a week.
Upgrade: I'd like to complete at least two revisions on Upgrade, which should be possible provided I sit down and go through the chapters in a timely manner. I've got several critters waiting for updated chapters to be posted, so this is the current priority of the month. I'm also going to begin prep for publishing Upgrade–namely, contact my book cover designer about a cover. Provided I get enough revisions done, I may also begin seeing beta readers (have a few people committed, but always interested in more!) and also people willing to review my book in return for an ARC.
Augment: I'd like to work on some promotional stuff for Augment with the materials I currently have. I'm also seeking book reviews for Augment, in preparation for doing promotions, as a lot of promotional sites require books to have a certain number of reviews.
Demons trilogy: I completed the timeline/plotline for Demon's Blade, but Demon's Magic and Demon's Soul still need to be done. I'd also like to get some revision done on the timelines, if possible–and since I'll be seeing my sister, who knows almost as much about this series as I do (possibly more at the moment, since she read them all again recently), I'll be able to get some serious work done on this trilogy. My goal is to revise all three and publish them over the course of the year.
Of Beauty Within: If that isn't enough on my plate, I'd also like to work more on this project. Most of what has been written so far was done on my bus ride down to NYC back in January… But I love the concept and the characters who have appeared so far and I'd like to make some more progress on it.
Of course, this post wouldn't be complete without a Month Map!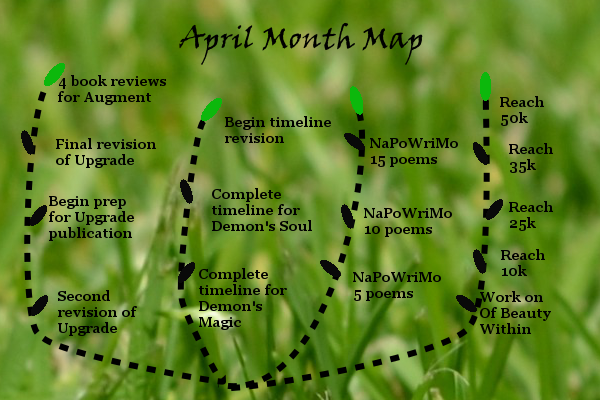 This month, you can watch the flowers bloom as I complete my goals.
What exciting goals do you have planned for April?