Finally, an update that's actually on time! Yay!
Mostly because I'm sleepy and don't plan on doing anything else productive tonight once I've finished this post.
Here's the final Month Map: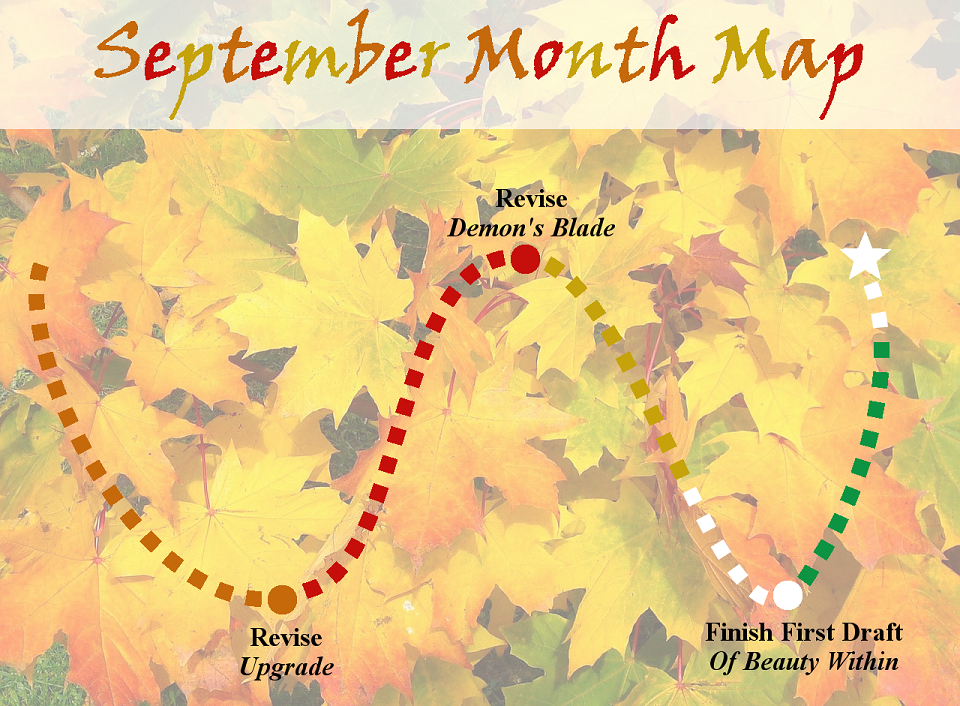 For some reason the image keeps showing up as that of the previous update's map, so I'm praying that it's just some visual glitch. However, if it should prove not to be–the red line should be complete, the gold line should be mostly finished, and the last bit should be mostly green, detailing how much progress I made this month.
Oh, and the title should be all nice and colorful as well, now that the month is (almost) over.
Here's the rundown for all my September projects:
Upgrade: Still sitting in my laptop case, waiting for me to dive into it with a red pen early next month.
Demon's Blade: I finally collected enough karma to post this entire novel, albeit with a few chapters that still need to be split because they're quite long. Still, I'm pleased that I managed to get that done, given how much karma I needed to post an 80k+ story. I also already have four crit partners lined up for it, and hopefully more on the way!
Of Beauty Within: The first draft isn't finished yet. Which is sad, because I really wanted to start posting it next month. However, it's currently sitting at 38,071 words, the ending is almost done, and I just need to go back and add a few chapters in the middle. Aiming for 50-60k as a final total. If I can managed 3-4k a day (roughly a chapter) for the next few days, I should be able to get the rough draft done. Then it's on to the polishing!
Other news: My wrists are doing much better than they were before. I'm currently traveling again, visiting a friend at a place near the ocean. I have several new story ideas, as mentioned in my last update, and plan to expand on them once my current WIPs are finished and waiting for critiques (or heading to publication, as in Upgrade's case!)
What to expect next month: I will set a publishing date for Upgrade once I've gone through my current waiting critiques and the manuscript myself. There'll also be a cover reveal sometime in October–not sure when yet but it'll be motivation for me to get Upgrade ready to head out.
I'll post my October Month Map sometime in the next couple of days.
How did your September goals go?